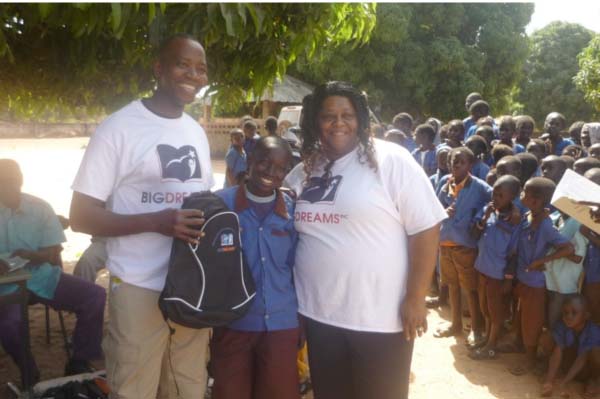 Big Dreams Incorporated, a charitable organisation founded in Georgia, USA in 2011, Tuesday donated school materials to more than 250 students at Sika Lower Basic School in Sika village, Upper Niumi District.
The donation is part of the association's aim of making a difference in the life of children all over the world.
The donated materials, worth more than D280,000, included school bags, pens, pencils, shoes, toothpastes and brushes, water bottles among others.
Mamina Ebrima Sonko, co-founder of Big Dreams, said the objective of the foundation is to help students in the rural areas of The Gambia.
Mr Sonko, also the chief finance officer (CFO) of the foundation, explained that their ultimate objective is to get the students succeed in school.
A native of Sika residing in the US with his family, Mr Sonko said the donation will help immensely because he has seen that some students who lost their books or have it destroyed due to lack of school bags.
The water bottles, he said, will also help immensely because the kids used to drink from the same cup and that is very unhealthy because of one has a disease, it can be passed to the others.
Mr Sonko said they do not want to make any promise but they have big dreams such as provision of satellite containers with computers to schools so that the rural areas can be connected to the world.
The charity's plans also include equipping school libraries, and supporting school feeding programmes in rural areas so that children can have notorious meal.
Dominiquera Sonko, president of the foundation, said anytime they help students and communities, they have added motivation to do more.
Zaekaria Sonko, fundraising coordinator for the foundation, said giving back to the community means a lot to them.
Lamin Kujabi, chairman and Gambia coordinator of Big Dreams, called on other philanthropists to emulate Big Dreams and help in other areas to complement the government's efforts.
Mr Kujabi who was also deputising for the permanent secretary, Ministry of Basic and Secondary Education, said the government cannot do it all alone.
Kebbeh Kinteh, headmaster of Sika Lower Basic School, thanked the donors for the gesture.
Pa Modou Sallah, cluster monitor, Albreda Cluster, said the doors of all schools within the cluster are open to Big Dreams for help anytime.
Yunkuba Sanneh, chairman of the school management committee, and Demba Sonko, a representative of the village Alkalo, both commended the donors for giving back to the community.
Read Other Articles In Article (Archive)