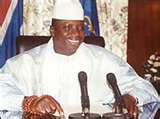 The residents of Kombo North and other APRC supporters over the weekend converged at Lamin village to honour President Jammeh's title of "Professor".
The celebration which attracted thousands of APRC party militants was in the form of a procession starting from the Banjul International Airport to Lamin Village with the Army band, cultural display and horse riders. The procession was led by the paramount chief, governor of Western region and other government officials.
Speaking at the occasion the paramount chief, Alhagie Demba Sanyang, commended the people of Kombo North for their loyalty to the APRC party and president Jammeh. According to him the occasion serves as an indication of their appreciation of the title "Professor" given to president Jammeh. He also added that this celebration is again a clear indication of the people of Kombo North's commitment to president Jammeh.
For her part Honourable Tina Faal expressed appreciation to the women of Kombo North for their solidarity, adding that their dedication and commitment to national development has been exemplary.
The Vice President Dr. Isatou Njie Saidy, expressed similar sentiments and appreciation to the people of Kombo North for their love and loyalty for president Jammeh.
V.P told the people of Kombo North that looking at the development that president Jammeh brought at the doorstep of every Gambian, they have not devoted their love and loyalty in vain.
She also urged the people of Kombo North to continue their solidarity, and promised the people of Kombo North of more development in the Pipeline.
Read Other Articles In Article (Archive)