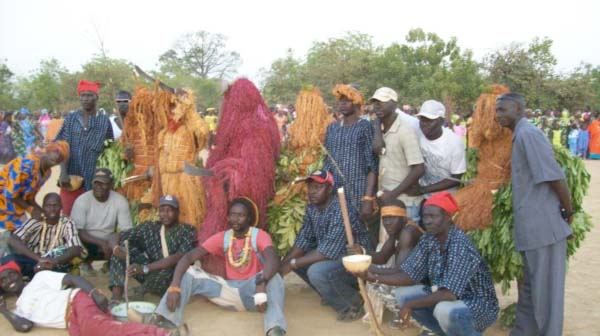 The director of cultural heritage at the National Centre for Arts and Culture (NCAC) has said that the Kankurang Museum that is constructed in Janjanbureh village is at the "mounting stage of exhibition".
Mr Hassoum Ceesay said already the writings and exhibition texts have been completed, the required photographs are at hand and all the necessary research has been done.
In an interview with The Point newspaper recently at his office in Banjul, Mr Ceesay said the museum is centred on kankurang as a traditional masquerade but it also has stuff on all the masquerade traditions in The Gambia like the zimba, hunting, and kumpo. 
The museum is centred on kankurang because the initial funding agreement with UNESCO was that the museum will centre on showcasing the history and significant role of the kankurang. 
"This is because we realised that kankurang is a major masquerade in many parts of Africa though it is not the only one.  But we have now decided to broaden and increase the scope so that there will be a lot in the museum," he said.
Mr Ceesay explained that one of the things most people will find interesting about the museum is women masquerades because people take masquerades to be a male activity.
"We have researched up to six different types of women masquerades which most people never knew about," he explained.
The museum will also have stuff on masquerade traditions in Africa to give it a continental dimension.
The official opening of Kankurang Museum is now planned to coincide with the festivities for the 51st independence anniversary of The Gambia.
However, the director of cultural heritage lamented that they were faced with some of the constraints in having the museum completed.
"The issue of photos like the women masquerades was a problem.  We ended up collaborating with the researchers in the 60s and 70s to avail us some photos.  The other thing is the timing; our intention was to get the museum running in January but still the mounting is on," Mr Ceesay said.
Demba Y Baldeh also of NCAC said the mounting will set a light to a lot of mysticism attached to masquerades and masks because a great research has been made in the issues.
He said the Kankurang Museum is a multi-purpose centre:  it is an exhibition centre and an educational centre. 
The educational centre will help educate students from various schools ranging from lower basic to tertiary to know about the masquerades in The Gambia.
The exhibition centre is designed in a modern fashion and in such a way at that the writings can be read even 25 metres away from the materials exhibited because that could attract different visitors to the centre, Mr Baldeh said.
He said it is expected that many people will endeavor to visit the centre in order to access valuable information there pertaining to the masquerade.
Read Other Articles In Article (Archive)