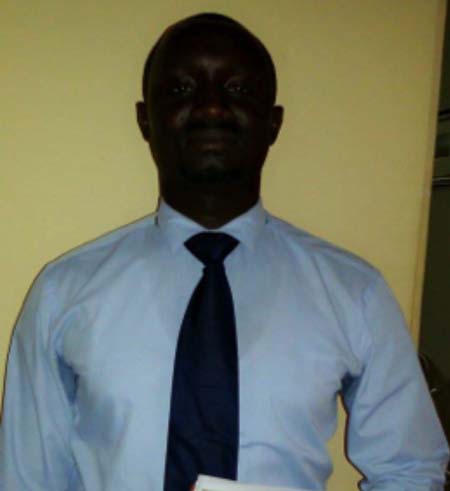 Sang Marie Sambou has become the first-ever Gambian basketball referee instructor accredited by the International Basketball Federation (FIBA).
Mr Sambou was accredited after attending the International Referees Instructor and Refresher Clinic in Tunisia in April 2015.His participation in the course was bankrolled by the Gambia National Olympic Committee (GNOC) through the Gambia Basketball Association (GBA).
The secretary general of the GBA, Abdoulie Jallow, said Sambou's results from the course were released last week, and he emerged with flying colours.
He said Sambou was subsequently appointed national referee instructor by FIBA, the first Gambian to be so designated.
Speaking to journalists on Monday at Olympic House, Mr Jallow said the entire basketball family in The Gambia is proud of Sang Marie Sambou's performance.
He said Sambou's achievement "will surely" add value to the development of basketball in The Gambia.
The president of the GBA, Muhamadou Papa Njie, expressed gratitude to GNOC for financing Mr Sambou's trip to Tunisia.
He added that the objective of GBA, as a national association, is to build the capacity of its members.
Mr Njie noted that refereeing is a key component in the development of basketball; therefore, with Mr Sambou's accreditation by the GBA will have the chance to multiply basketball referees in The Gambia.
Sang Marie Sambou said the course was challenging, but through hard work and dedication, he was able to make it.
"With the support of GBA, I would come up with referee training programmes, conduct training for local referees and report back to FIBA," he said."It will be based on those programmes and reports that I will be evaluated and assigned to conduct training in other parts of Africa."
The first vice president of the GNOC and a member of the International Olympic Committee, Beatrice Allen, said the national olympic committees do not run associations, but usually extend a helping hand to sports associations in their development programmes.
She said national associations have to come up with programmes, including capacity building for their members, to get assistance from the NGOC; but priority is usually given to Olympic sports.
The Gambian IOC member urged the national associations to get to the schools to tap new and young talents, for sustainability reasons.
Read Other Articles In Article (Archive)