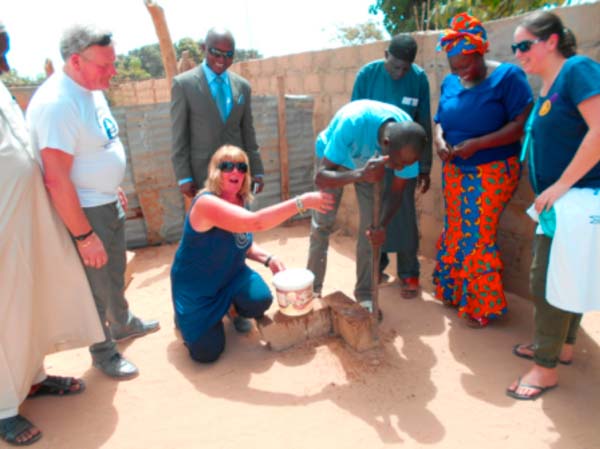 The Rotary Club of Royden Revolve based in UK in partnership with the Rotary Club of Fajara Monday laid the foundation stone of a classroom block at Bright Star Nursery School in Old Yundum village in the West Coast Region.

The construction of this classroom block is entirely sponsored by the UK Rotarian, with the aim to promote quality and access to education by pupils of this country.
The laying of the foundation stone was witnessed by Sainey Manneh, a member of the Rotary Club of Fajara among other members from the UK.
The laying of the foundation stone also coincided with the commemoration of Commonwealth Day.
Speaking at the ceremony, Ebrima Badjie, a parent and an administrator, commended the donors for their constant support toward the welfare of the school.
He noted that their intervention was paramount as far as education is concerned, adding that he was happy to witness the laying of the foundation stone for the new school block.
"We are grateful and thankful to the donors for this manifest gesture that will go a long way in helping children have access to quality education."
Mr Badjie added that this would also go a long way in improving learning in the school.
Rotaraian Sainey Manneh, president-elect 2016-2017 for Rotary Club of Fajara, thanked the Rotary Club of Royden Revolved of UK for supporting Bright Star Nursery School and primary school.
He said the two Rotarians work in many areas of interest for the welfare of the Gambian people, particularly in health and education.
"We acknowledge the sponsor's effort in promoting education in this country," he said, adding that this classroom would be a dream for the kids.
Patsy Dodd, president of Rotary Club of Royden Revolve in UK, also expressed happiness to support the children in the advancement of their education.
She said her club is ready to give support to these pupils, and she acknowledged the warm welcome given to her and her team during visits to the school.
Also speaking was Betty Gomez, head-teacher of the school, who acknowledged the efforts of the UK philanthropist and their support through the Rotary Club of Fajara.
Read Other Articles In Article (Archive)