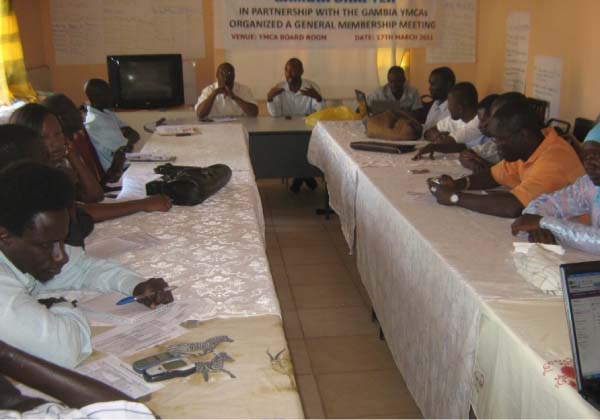 The Youth Employment Network (YEN) on 17 March 2011 organised a general membership meeting at the YMCA Conference Hall in Kanifing.
The forum that brought together network members from youth organizations and the media was held to strengthen the membership of the network.
Speaking at the meeting Alfusainey Gano, national chairperson of YEN, gave a brief account of YEN (Gambia Chapter). The network is committed to advocating for the creation of more employment opportunities for the youth, he says, adding: "The YEN Gambia Chapter was established in the country in 2002, as a network of youth organizations advocating for youth employment and sustainable livelihoods."
Gano says that every two years YEN members meet to evaluate their programmes and activities.
"Since the inception of the YEN network in The Gambia, the Minister of Youth and Sport, Sheriff Gomez, has always taken the lead," Gano acknowledged.
In his keynote address, Joseph Peacock, who deputized for the YMCA director, revealed their support to YEN through the support they received from Big Lottery Fund and Y-Care International.
He said that the YMCA support young people to grow economically in order for them to have sustainable livelihood.
"The work of YMCA is to promote youth development, economic rights and justice, advocacy in other to empowerment young people," said Mr Peacock.
He further asserted that the YMCA has been able to train 1617 youths on different lucrative skills, noting that their work at the YMCA is championed by youth leaders.
Mr Peacock calls on other institutes to emulate the work of GAMJOB in creating and facilitating job opportunity for young people but emphasised that the youth should also recognise the efforts of GAMJOB.
YEN is a bit handicapped professionally in terms of administrative support, he said, calling on donors to support the course of YEN.
"Governance is important in any sustainable organization," said the YMCA coordinator, urging the YEN network to collaborate with the private sector, individuals, and philanthropists for help.
Further speaking, he urged YEN (Gambia Chapter) to expand its membership through a decentralised process, calling for the maintenance of the continued partnership between the YMCA and YEN.
The meeting discussed such issues as advocacy strategy, membership drive and organizational development, and the National Coordinating committee report.
Abdou Boye, YEN national coordinator, gave a brief account of their activities over the past few years, said the meeting was also held to create room for dialogue, networking, and interfacing between YEN members and stakeholders.
"It will also help lobby for funding for our programmes and technical support that will build the capacities of YEN Gambia to undertake sustainable youth employment programmes that will reduce unemployment, underemployment and poverty reduction," he said, while thanking the YMCA for sponsoring the YEN general meeting.
Read Other Articles In Article (Archive)