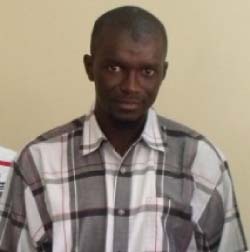 Yaya Manneh, Lamin United head coach, recently completed his youth module 1 and 2 course in football coaching after initially building his capacity in 1 and 2 football coaching in 2012 in the United Kingdom (UK).
Manneh, who returned to The Gambia last week after successfully undergoing the course in the UK for about a month, told reporters on Tuesday at the Serrekunda East Mini Stadium that the level 1 programme looked at creating an environment conducive for players on the training ground, while level 2 focused on developing the practice.
He described  both  programmes as very much key to the professionalism of Gambia football, urging all coaches to focus on them very well as the combination of the two can take Gambian football to another level.
He noted that he applied for the UEAFA B Licence in 2012 when he was in the UK to build his capacity in level 1 and 2 football coaching but was made to understand he had to go through the youth module course to be able to qualify for the UEAFA B Licence.
He therefore decided to build his capacity on the youth module 1 and 2, he explained, saying he came out successful in both courses.
Mr Manneh also pointed out: "I would love to undergo the UEAFA B Licence, probably next year, because when you do a particular course you have to realize the impact it has on you as a coach and also on your players. Mostly you are given a duration of six months to do your practical assessment with your team-mates."
After 6 months he would like to do the other courses, he said, adding that for him he would like to go in for another year to do the UEAFA B Licence as "the courses are very much good" for him.
For him to implement them in The Gambia would take a bit of time, he remarked, saying that basically "The Gambia is less fortunate in most football equipment".
Nonetheless the most important thing is trying to improvise on the best they have in terms of materials and other essential things.
With time it will happen one day, he said optimistically.
He only got a week with Lamin United after his return from the UK, he observed, saying he had seen a big difference in the last two games they played in the FA Cup and second division league in which they won both matches.
"The youth module 1 which is creating an environment conducive for the players on the training ground is very much key in Gambia football and all coaches should focus on it very well," Manneh noted, adding: "The youth module 2 deals with developing the practice and basically the combination of the two will take Gambian football to another level."
Founder of KGH Academy in Lamin, Manneh said he got sponsorship from the Mondro family.
Manneh, who also works with Football Gambia, a charitable organisation, said that some time back the charitable organisation brought in a UEFA B Licensed coach who is also a trainer in the English FA to The Gambia, and since then whenever there are courses in the UK the man would pay for his courses and accommodation, while he himself would provide his air ticket to undertake the courses.
He stated that he would share the knowledge gained from the courses and other relevant information not only with coaches in Lamin United but also with others at KGH Sports Academy. 
They intend to provide coaching licence for their players because they believe if players also are au fait with the rules and status of coaches, football would be very much easier.
He recalled that in 2012 when he was doing his level 1 course in the UK he went into other courses with some English players, adding: "Our tutor told us in England before the age of 16 you have to get your level 1 badge certificate in coaching; before you get to 22 you have to get your level 2, and before 23 you get the UAEFA B Licence as a player."
This makes the work easy for both players and coaches as the players will know what is incumbent upon them as players whereas the coaches will also know what to give to the players," he further outlined , saying that is what they are trying to establish in their academy.
When players set their own goals it is 100 percent likely they would achieve them, he observed, noting: "It is like giving the players their responsibility and ownership, which is more about guided discovery."
In their last two games the players designed everything for themselves, he said, adding that the results were positive as they won both games.
It is like he is seeing the real outcome of the course, he added, saying the key areas of the course would help in his coaching career.
In The Gambia he had seen that most of the players were not given responsibility or ownership right, which he said is very much key to him.
Manneh says he strongly believes in his rules and prefers to stay with Lamin United and grew with them because he started growing with the team and, no matter what qualification he had in his coaching career, he would always like to stay loyal with the club and grow with them, he said.
Read Other Articles In Article (Archive)