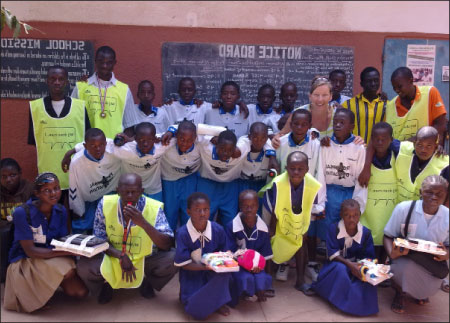 Yagana World Foundation, a Holland-based organisation, under the leadership of Dinemarie Langereis, on 4 July 2011 provided the school fees of six students at the Bakoteh Proper Lower Basic School.
This was done as part of the Foundation's contribution to the development of education in the country.
The sponsorship package for the six students was the third of its kind, Ms Langereis said, adding that they are sponsoring up to 35 students in the country.
The package also included a donation of books for wood working and drawing maps, as well as 100 pens for the school itself - Bakoteh Proper Lower Basic School.
Bakoteh Upper Basic School also benefited from the gesture by receiving a set of football jersey donated by Mr Derek Kent (of Pro Futsal Foundation).
"We are sponsoring the students because we believe education is key to development," Ms Langereis said.
She added that they are also building a house for one of their sponsored girls and her family to ease their housing burden.
Alieu Manneh, headmaster of Bakoteh Proper Lower Basic School, said Binta is a hardworking, respectful, obedient and tidy student who is ready to learn from everyone. "The other sponsored students are also doing very well," he said.
Mr Manneh said Ms Langereis "is very concerned" at seeing that children are educated, adding that the sponsorship is geared towards educating children as well as reducing poverty.
"I thank you very much on behalf of the school for being so generous and helpful to us," he said, adding: "No gift is small and we really appreciate your efforts."
While they look forward for more support, Mr Manneh says the materials will be used prudently.
Read Other Articles In Article (Archive)