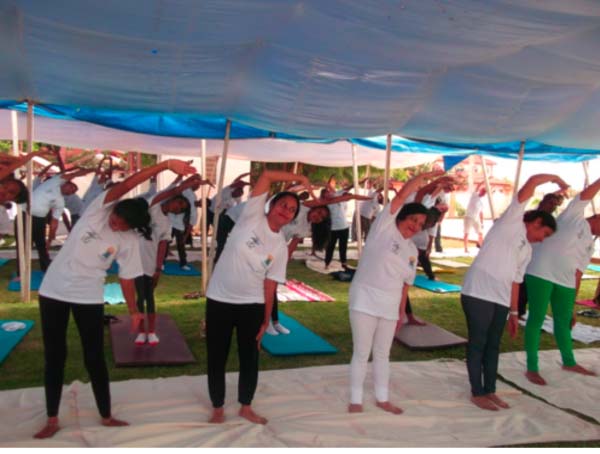 The Indian community in The Gambia led by their honorary consul, Mr Ram Mohan, yesterday commemorated International Day of Yoga at Paradise States in Old Yundum.
The day was celebrated alongside 199 nations worldwide following its adoption by the United Nations General Assembly.
The celebration was organised by the Indian Social and Cultural Association in The Gambia.
The first International Day of Yoga was celebrated on 21 June 2015 around the world.
The Indian Embassy in Dakar, in collaboration with its honorary Consulates in each of its accredited nations - The Gambia, Senegal Guinea Bissau and Cape Verde, is hosting Yoga events to disseminate the universal accepted benefits of Yoga and create greater awareness among the people.
Yoga was proposed by India Prime Minister ShriNarendra Modi. While he was addressing the 69th Session of the United Nations General Assembly (UNGA) on 27 September 2014, he urged the world community to adopt International Day of Yoga.
Yoga is an invaluable gift of ancient Indian tradition, which embodies unity of mind and body, thought and action; restraint and fulfillment; harmony between man and nature and a holistic approach to health as well as well-being. It is also described as a lifestyle.
On 11 December 2014, the 193 members of UNGA approved the proposal by consensus with a record 177 co-sponsoring countries, a resolution which was established on 21 June and declared as "International Day of Yoga".
Yoga is essentially described as a spiritual discipline based on an extremely subtle science which focuses on bringing harmony between mind and body.
Speaking to journalists, Indian Honorary Consul to The Gambia, Ram Mohan, described the significance of the day, saying it has substantial health impact to human life.
He commended the UN for approving the Yoga Day celebration and encouraged people to try to know the basic knowledge of Yoga exercise.
Fitness instructor of Yoga, Mohammed Legally Cole, said Yoga is more than an exercise; it is a wellness treatment.
He said wellness can be attained through Yoga exercise, which also helps to eradicate so many pains in the human body.
Tarun Singh, a participant and a member of the Indian Social and Cultural Association (ISCA), said Yoga is not only meant for their members but for the entire society, describing it as health-conscious exercise.
He said they would also try to use the social media to create more awareness of Yoga among the public.
Khimji Pindoria, a member of the association, also spoke on the occasion.
Read Other Articles In Article (Archive)