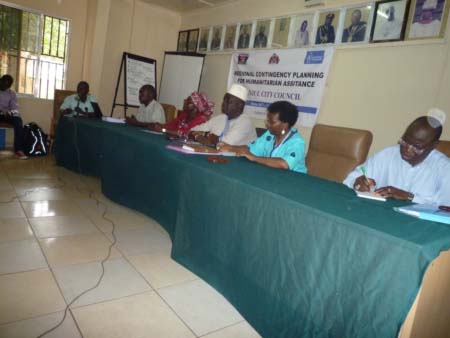 The Banjul City Council (BCC), in collaboration with World Food Programme and the National Disaster Management Agency (NDMA), recently validated the regional contingency plan for disaster management, at a seven-day validation workshop held at the BCC hall in Banjul.
Speaking at the validation meeting, Abdoulie Bah, Lord Mayor of Banjul City Council, said it was with a great sense of responsibility that they had to organise a seven-day consultation meeting to develop the Banjul City contingency plan for disaster management.
"We are all gathered here to validate the document that you have been working on for the past few days. I want to take this opportunity to thank all of you who have participated in this exercise," Mayor Bah said.
The Banjul Mayor told participants that the workshop was held to promote grassroots involvement in the development of an intervention approach in disaster management and prevention for Banjul.
"It should be noted that this document that we are validating was developed in Banjul by Banjulians with the technical assistance of very respectable institutions," the BCC steward said.
Mayor Bah also thanked the European Union for funding the programme, the World Food Programme for their technical assistance and the NDMA for their continuous support and assistance to Banjul City Council.
Therefore, any occurrence of major disaster anywhere in The Gambia would have an impact on the city, he said, while calling for more attention to the requirements of Banjul, with due consideration.
Also speaking at the workshop, WFP Country Director and Representative Vitoria Ginja said the meeting took place at the same time the 1st session of the intergovernmental committee met for preparatory actions for the third UN World Conference on Disaster Risk Reduction in 2015.
Such preparatory committee discussed how to address the threats posed by disasters and climate change whilst the post-2015 DRR framework was on the agenda, she said.
The WFP Country Director also said they also reviewed the current capacities, roles, responsibilities and limitations in terms of preparedness and response measures.
She added that the development of the contingency plan that had been validated was made possible as a result of pains-taken engagement and commitment from the first day on the debate.
Hudul EN Colley, Disaster Coordinator, and Lamin S. Tamba, Head of Programmes and Operation at the NDMA, both said the workshop was held to highlight the gaps within the community of Banjul.
Banjul had come up with risks and they had put that document together for the validation, they said. 
Read Other Articles In Article (Archive)