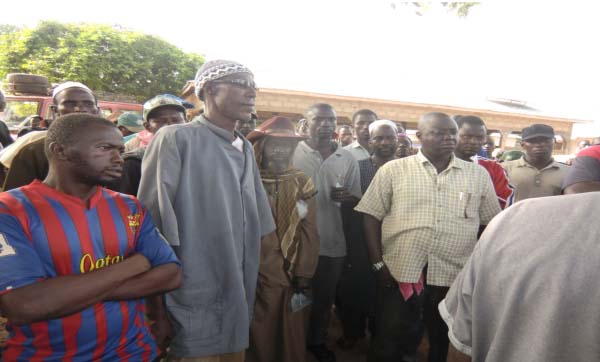 Over one thousand youths actively involved in the timber trade on Saturday gathered at one of President Jammeh's farms in Kombo Darsilameh to clear the huge hectare of land with the aim of boosting agricultural production and productivity.
The exercise was organised by the Association of Wood Re-exporters and forest users in The Gambia, in collaboration with their regional association based in Basse, under the coordination of its Chairman, Lamin Barrow.
In his remarks, Chairman Barrow said the exercise was to contribute their quota to national development.
According to him, his association deems it very fitting to embark on such activities as part of their annual activities to show solidarity with President Jammeh, whom he said has the interest of the country at heart.
Explaining the aim of his association, Barrow said his association is not a profit-making body but was formed with the sole purpose of contributing to national development through the creation of employment opportunities for the youth by ensuring they engage in productive venture that will have positive impact on their lives.
Looking at the employment opportunities available for the youth, majority of them are found in the timber trade, hence the importance of the sector, he said.
Barrow explained that the closure of the timber trade since last December has affected the youth in so many ways, pleading with President Jammeh to consider the plight of the youth and allow the re-opening of the trade.
While also apologizing to the Gambian leader for what he called malpractices committed by some members of his association, Barrow expressed his association's resolve to always work with the Department of Forestry in the protection of the country's natural resources.
For his part, Bakary Sanneh, Manager of Siffoe Farm, commended the Association of Wood Re-exporters for coming out in their large numbers to give a helping hand to President Jammeh on his farm.
The move, he added, is a clear demonstration that the association is a real partner in development and needs to be recognised.
He also used the occasion to laud the youths for their massive turnout and encouraged them to continue their hard work and love for President Jammeh.
Also speaking at the exercise, Modou Jatta, youth leader, said the exercise is specifically set aside for the youth, whom he said, are actively engaged in the timber trade.
He also appealed to President Jammeh to re-open the timber trade, noting that most youths are employed in the trade.
Read Other Articles In Article (Archive)