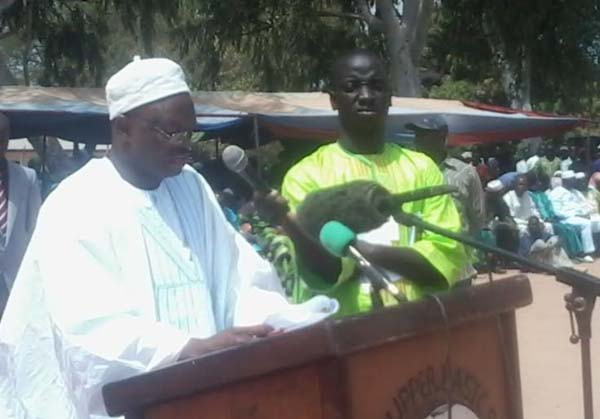 Thousands of people in the West Coast Region (WCR) at the weekend converged at Somita Village, in Foni Berefet District to celebrate The Gambia's 49th Independence Anniversary in grand style.
The event, characterised by a march-past of school children, local organisations, women groups, youth groups among others, was led by the army band.
The day's celebration brought together scores of dignitaries including the Secretary General and Head of the Civil Service, Momodou Sabaly,
Minister of Trade and Industry, Abdou Kolley, Minister of Basic and Secondary Education, Fatou Lamin Faye, Minister of Fisheries and Water Resources, Mass Axi Gaye, Minister of Health and Social Welfare, Omar Sey, Minister of Youth and Sports, Alieu K. Jammeh.
Other dignitaries were the Chairman of Brikama Area Council, Bakary Saibo Sanneh, Mayor of Grand Yoff in Dakar, Mamadou Mbye, Gambia Paramount Chief Demba Sanyang and governors from other regions, National Assembly Members, chiefs, ward councillors among others.
Leading the day's celebrations in the region, Governor Lamin Sanneh described the day as important in the annals of the country's political history, noting that the occasion provides the opportunity to reflect on the journey The Gambia has embarked on since political independence was attained from the British in 1965.
He said the day was worth remembering in that it brings to the fore, the injustice meted out to Gambians in the pre-independence era.
"Today we are now a sovereign nation enjoying self-rule and liberty," the governor said.
In a statement read on behalf of President Yahya Jammeh, he said the government places a high premium on national security and this sacred national interest would never be sacrificed on the altar of satanic and ungodly international standards that continue to promote the evil agenda of the world powers that are today playing god to Africa and the third world.
Our democracy, he said, would be built on and sustained by our religious beliefs and cultural values.
He stressed that independent, development, peace and stability could not be attained and sustained without a price every citizen should be willing to pay with his/her sweat at the least for rapid socio-economic development and peace.
He said the Gambian leader calls on every Gambian to take greater personal responsibility for the socio-economic development, stability, security and independence, and in a nutshell, the well-being of our motherland The Gambia.
He further asserted that The Gambia would continue to pursue a foreign policy based on equality and genuine friendship with the rest of the world, such friendship must anchor on mutual respect and the inviolability of The Gambia's sovereignty and independence.
Read Other Articles In Article (Archive)