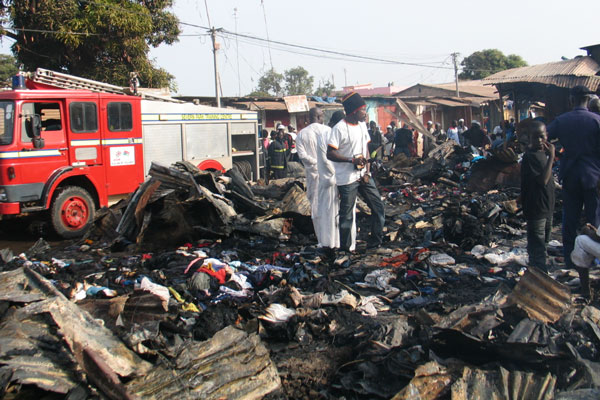 In recent years Serrekunda Market has seen almost every other year the scene of a destructive inferno. On Saturday 27th December 2008 between 3:30am to 4am many residents of Serrekunda were awake at the crack of dawn with agony on their faces as a wave of fire erupted yet again at one of the most complete markets in Banjul leaving hundreds of properties destroyed.
At the height of the rush hour for work, many vendors and stall owners were stopped at strategic points guarded up by security personnel in order to allow the fire service and other stake holders to put the destructive flame out.
The flame, which was completely put out at around 11:00am Saturday morning, burned a lot of properties, the value of which has not yet been estimated.
Shop owners who bore the brunt of the fire were asked to report to the Serrekunda police at the Criminal Investigation Department for questioning and assessment of the worth of their damages.
While the cause of the blaze still cannot be ascertained, many people exclude, this time, the possibility of the flame been cause by electricity since the area does not have electricity. This area burned was considered the heart of the market.
Some of the items seen burned are second hand blankets, textile, shoes, legumes, cosmetics, electronics, heaps of salt, tie and die, and many other items.
Speaking to reporters, the mayor of Kanifing Municipal Council, Yankuba Colley, said that the cause of the disaster is yet to be known as investigations are still being carried out by the police. He reassured the public that his municipality will do their best to restore the victims to their former status.
The Divisional Fire Officer, Sang Ndow, said that all the stations in KMC were on the ground to control the fire including Banjul and the airport.
Most of the victims who spoke to this reporter were disgruntled and severely enraged by the whole scenario which, they say, will likely take them back to "square one".
Read Other Articles In Article (Archive)