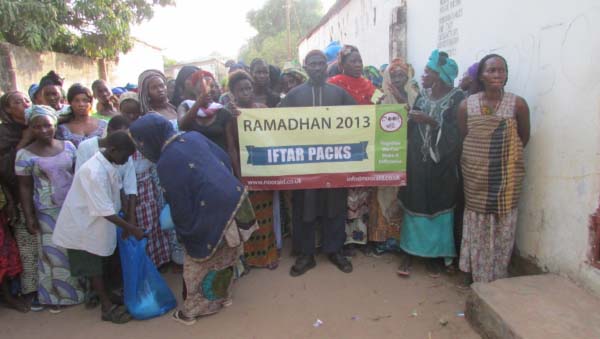 Members of a UK-based Islamic Non-Governmental organization called Noor Aid Gambia branch, are currently distributing iftaar food packages to families and communities within West Coast region as part of their annual intervention in The Gambia.
The distributed items include rice, vegetable oil, sugar, onion, among others to the local communities within the greater Banjul and peri-urban areas.
The distribution took the form of community outreach and submission of tickets to beneficiaries in a queue at the residence of the coordinator in Wellingara, Kombo North District, West Coast Region.
Ousman Jammeh, coordinator of Noor Aid Gambia chapter, said the organization is a relief aid and charitable entity that provides support to the less-advantaged, poor and needy local communities in Africa and Asia to alleviate poverty among rural and per-urban dwellers.
He added that the reason for issuing tickets to beneficiaries is to avoid letting some of them receive twice when some of their colleagues have not got anything.
Highlighting some of their interventions as of last year, they were able to distribute over 300 bags of rice (50kg), 200 drums of vegetable oil, financing the provision of 12 wells, constructing and rehabilitating 13 mosques, giving bags of sugar, second-hand clothes, cash donations and distribution of D135,000 to students for scholarships from Lower Basic School to university level.
According to him, the organization will come up with strategies to ensure sustainability of community projects at all levels in alleviating poverty among local people.
He used the opportunity to commend the management of Noor Aid main office in the UK, particularly Hashim Bharucha, chairman of the organization, and his colleagues, for their unflinching support to the local people to improve their living condition.
For his part, M.L. Hashim Bharucha, chairman of Noor Aid organization, hailed the people of The Gambia for the warm welcome and hospitality accorded them.
"The Gambia is a peaceful country and her people are very nice people; everyone is smiling," he said.
The organization, he added, was founded in 2001 with the objective of helping the poor and needy in Asia and Africa.
According to him, they came to provide Ramadan iftaar for the poor and less-privileged by giving them rice, vegetable oil, sugar, onion, packets of candle and packet of tea bags to about 700 families, and the second project is to provide hot meal to 250 people in 11 mosques daily during the Ramadan that will be cooked to serve the people.
"We have been doing this for about 7 years for the local people in the local mosque and the third one is to give Koriteh clothes to children including pairs of shoes and mosquito net for each child thanks to well-wishers, family members in England who provided the funds."
"We are intervening in the areas of education, health, agriculture, water and food distribution," he added.
He also commended the Government of The Gambia for creating an enabling environment for organizations like theirs to operate.
Banna Suso, a beneficiary, on behalf of her colleagues, thanked and commended Noor Aid for what she described as timely intervention.
It has come at a time when it is highly needed, she said, adding: "This support will complement government efforts in providing food aid to families who are hard hit by 2011 crop failure as a result of erratic rainfall."
Read Other Articles In Article (Archive)