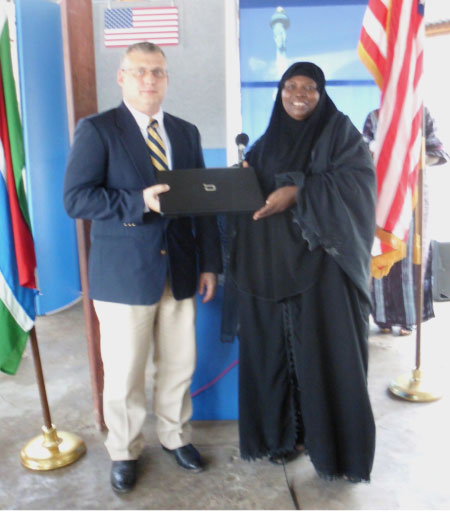 The embassy of the United States of America in Banjul yesterday donated 30 enabled internet laptops to three Islamic institutions in the country.
The beneficiaries included Sheikh Mass Kah Islamic Foundation Senior School, Imam Malick Institute for Islamic Studies and Muhamad Yadalue Institute for English/Arabic and Quranic Education.
Each of the beneficiary institutions received 10 laptops and would further benefit from a weekly English language and internet session at the schools over a period of six months to help develop the students' reading and writing skills.
They will also include taster sessions focused on leadership and teamwork as well as building student's confidence
Speaking at the presentation ceremony at Imam Malick Institute for Islamic Studies, Tommy G. Jones, acting-deputy Chief of Mission at the US Embassy, said the presentation of the computers was done to assist the students in these Islamic institutions in learning English language.
According to him, the gesture forms part of the US Embassy's recent effort in enhancing their relationship with Muslim institutions in The Gambia.
"The Gambia and America share a great quality of religious acceptance. In America there were over 1900 mosques and over one million people practising Islam over there," he said.
According to him, in America an estimated 2.5 million people do practise Islam and the number grows daily.
The good relations (Islam and Christianity) between the two countries is good omen, which, if emulated by all nations, could bring about greater peace in the world.
Sharing the common language will bridge the differences in both countries and religions, he said, adding that they felt it is important to provide the computers to the future leaders of the Gambia Islamic community to continue communications between them.
"Partnership will not end with this gift; it will continue with internet session and English language training in the coming next months and this will ensure the development of the students' English language skills to improve their leadership quality," said Mr Jones. 
In her remarks on the occasion, Aja Maimuna Savage, principal of Muhamad Yadaleu Institute, expressed appreciation with the US embassy for the support.
Computer literacy is a must for the young ones and all intellectuals who are dynamic in our MDGs, she noted, adding that Islam is a religion of peace and tolerance.
Saihou Bah, principal of Sheikh Mass Kah Islamic Foundation Senior School, and Muhammed Kabba, principal of Imam Malick Institute for Islamic Studies, who both commended the US embassy for the gesture and assured them of putting the equipment into good use. 
Read Other Articles In Article (Archive)