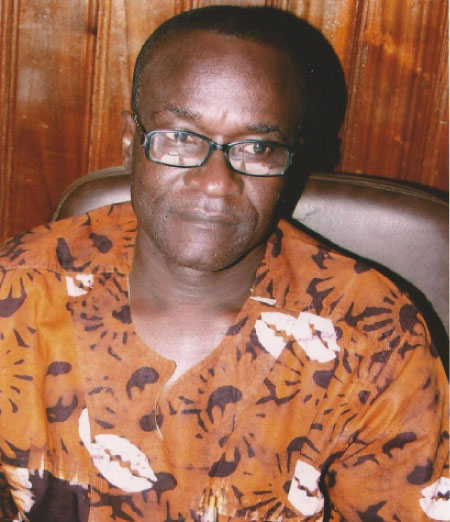 Welcome to another edition of Personality of the Week, the weekly column which profiles Gambian men and women of interest.
In today's edition, we bring you the profile of a man who has made a tremendous impact at the Gambian postal service since taking over as managing director at Gampost six years ago. He is Momodou Alieu Ceesay.
Mr Ceesay has worked in the postal service almost his entire career. He had humble beginnings there, but his potential was spotted early on. He says: "When I was at the Post Office registration department, my role then was to check mail. One day, the then director, Mr Bright, came with a file and said to me, 'Mr Ceesay, can you work on this file?' Before he left, he said to me, 'Mr Ceesay, one day you will be the director of this institution'. Fortunately for me, ten years later I became the director!"
He had a lucky start in life for which he is grateful. Life was not as tough for him growing up as it can be for others because his parents had enough money to pay his school fees. When he left school, his parents wanted him to work in the civil service. His school education enabled him to enroll at the Vocational Training Center (now the Gambia Technical Training Institute) in 1975.
He says: "Back then if you wanted to work in the civil service, the best avenue was to go to the then only vocational training institution, in Kanifing." Following his parents' wishes, he went to the training center's unit of administrative and technical division which prepared people for work in the civil service.
"Under that unit I studied bookkeeping, shorthand, typing and office procedures. It was the Public Service Commission which identified four of us after graduation to join the postal services based on our academic competency, dynamism and talents," says Mr Ceesay.
Since then, Mr Ceesay has had a long career in the postal service which was briefly interrupted in 2000 when he was moved to the Ministry of Works Infrastructure and Communication as Deputy Permanent Secretary. While he was at the ministry, the government revitalised the postal service and Mr Ceesay was asked to head the task force as chairman.
Under his leadership the task force did everything that was necessary to put the structures in place for the introduction of the Gampost Act 2005. This transformed Gampost into a public enterprise whereas before, it had been run as a government department.
Now the managing director at Gampost, Mr Ceesay says his main objective is to improve the knowledge of his working staff. As an administrator, he feels he has created a good working atmosphere and has cultivated good relations with his team.
To this end, Mr Ceesay organises a general meeting every month where staff can openly discuss work issues freely and without fear. "After hearing from the staff the management will explain why they do certain things and why certain things are not allowed. The staff does appreciate management's response." 
At Gampost, Mr Ceesay's would like to modernise so that his institution can respond positively to the needs of his customers. Gampost has recently partnered with DHL in a public private partnership whereby some Gampost mail will be handled by DHL.
Mr Ceesay has also overseen innovations such as the introduction of a Money Transfer Agreement (MTA) with La-Poste in Senegal which enables customers to send money to Senegal using a Gampost International Express Money Order (IEMO).
"We also have the following services: Express Mail Services which is the fastest and the cheapest within the courier industry, Money Express, Money Gram and Western Union. Our mail services are now secure with the introduction of closed circuit television. We have also opened two new branches, one at Bwiam in the West Coast Region and other at Wassu in the Central River Region North. Very soon we will start a new money transfer call RIA."
Mr Ceesay is also keen on incorporating the public's ideas for improvements and is calling on the general public to use the service and give his institution their support.
Mr Ceesay's Professional History
-           1955: Born, fifth son of the late Alhagie Alieu Ceesay and late Mrs Aji Ramatoulie Ceesay
-           1961 to 1963: Attended Albion Lower Basic school, Banjul
-           1963 to 1967: Attended Saint Mary's Lower school
-           1967 to 1971: Attended Crab Island Secondary Technical school, Banjul; graduated with Secondary Four Leaving Certificate Examination,  2nd  in the country
-           1971 to 1973: Attended Gambia High school, Banjul
-           1974: Attended Vocational Training Center (now GTTI) for six months
-           1975: Joined the postal service as a 3rd grade clerk
-           1977: Promoted to Trainee Executive Officer
-           1978: Promoted to Accounts Office
-           1980 to 1982: Attended Miami Dade Junior College, USA where he obtained an Associate of Arts degree
-           1982 to 1983: Attended Florida International University, USA and graduated with a Bachelors of Business Administration
-           1984: Promoted to Acting Superintendent of Posts after re-joining the postal service
-           1985: Attended 12 week training course on Postal Operation for Middle Grade Postal Officers in India
-           1991: Promoted to Senior Superintendent of Posts
-           1992: Promoted to Assistant Director of Posts
-           1995: Promoted to Director of Posts
-           2000: Moved to Ministry of Works Infrastructure and Communication as Deputy Permanent Secretary
-           2006: Promoted to Managing Director of Gampost
Read Other Articles In Article (Archive)