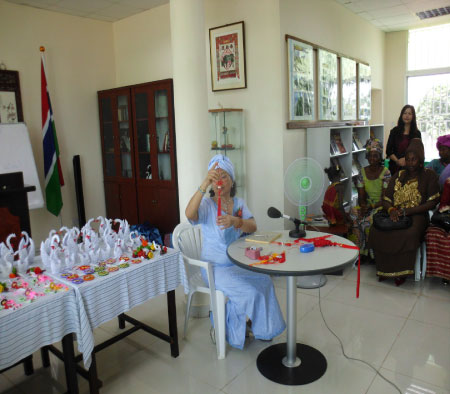 A group of officers and soldiers' wives yesterday completed a five-week (twice a week) paper art and Chinese knotting course at the Taiwan Culture Centre in Kanifing.
The training, which attracted about twenty women, was conducted by the wife of the Taiwanese ambassador Madam Leigh Chen.
Speaking at the closing ceremony, the Taiwanese ambassador to The Gambia, Samuel Chen, congratulated the women for their achievements. "This is a form of cultural exchange and I am happy that you have learned new skills and knowledge," he said.
According to him, the world is now a global village and to be multi-cultures has a lot of advantages.
He hailed the already cordial bilateral relationship between The Gambia and Taiwan, saying he is happy to see the relationship broaden into the area of culture.
Learning from each other's culture will help you to respect others, Ambassador Chen remarked.
He encouraged the trainees to put the skills into good use and to spread it to the wider community for the benefit of more people.
Speaking on behalf of the participants, Haddi Sanneh thanked the Taiwanese embassy for the training and Mrs Chen for imparting new skills in them.
She paid special homage to Madam Chen for sharing her valuable time and knowledge with them.
The trainees, who were each given a Ramadan gifts (granulated sugar) and CDs by Ambassador Chen, also in turn presented gifts to the Taiwanese diplomat, his wife and their assistant instructors including Madam Sue Wang, Cecilia Peng and Jane Wang.
In an interview with reporters at the scene, National Assembly deputy speaker Fatou Mbye hailed the initiative of training the women on new skills.
Mrs Chen, who did the training, also made a live demonstration of the work being done with the participants.
Madam Chen is said to have an extensive knowledge and 30 years of experience in teaching paper art and Chinese knotting.
Read Other Articles In Article (Archive)