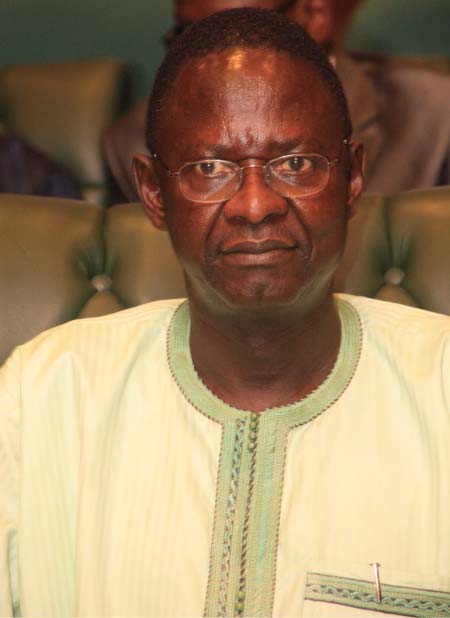 The Minister of Finance and Economic Affairs, Kebba Touray, yesterday laid before deputies at the National Assembly in Banjul the 2014 annual estimates of revenue and expenditure of the Gambia government.
In his presentation to the deputies, the minister of Finance started by giving an update of the recent macroeconomic and fiscal developments, and the reforms being undertaken during the financial year 2013.
He told deputies that Real GDP growth is expected to grow by 6-6½ percent in 2013, up from 5¼ in 2012, driven by a continued recovery in agriculture after the severe drought of 2011 and continued growth in tourism.
Inflation, he said, has edged up since January 2013, increasing to 6.1 percent in September 2013 from just below 5 percent at end-2012, largely due to a weakening of the Gambian dalasi.
According to Finance Minister Touray, depreciation pressures on the Gambian dalasi emerged following low exports from the below-average harvest in 2012, increase in domestic debt, and less donor inflows.
He stated that since end 2012, the dalasi has depreciated 11 percent against the US dollar, 12 percent against the Euro and 9 percent against the British pound sterling.
''Risks associated with the Gambia's heavy debt burden, and in particular domestic debt have intensified significantly in recent months, reflecting difficulties in coping with spending pressures,'' Touray said, adding that Government's net domestic borrowing increased sharply and together with tightening monetary policy led to T-bill yields rising by some 600 basis points since late May 2013.
The budget for 2014
On the draft budget estimates and expenditures for 2014, Finance Minister Touray said the 2014 budget presents the framework by which the Government's priorities, in terms of programs and projects, are formulated and implemented.
The main objectives of the 2014 budget, he went on, are to create more savings on interest payments to allow increase financing of government programs and to make allocations that meet set targets for agriculture, health and education.
''We intend to achieve this by bringing down the stock of domestic debt relative to GDP through the reduction of our net domestic borrowingrequirements over the short to medium term,'' he stated.
The Government, he added, recognizes the significant challenges it faces to mobilize the resources needed to implement our development agenda, and will therefore address the issues through a broad-based approach, including a rebuilding of government revenues, savings from reduced interest costs on domestic debt, accessing external concessional financing while maintaining debt sustainability and harnessing private sector participation in viable sectors.
Revenues and grants
The Minister of Finance further told deputies that total domestic revenue in 2014 is projected to rise by 21.8 percent over 2013 estimate. This, he said, is principally due to a 20.5 percent expected rise in tax revenue and a 32.0 percent projected increase in non-tax revenue.
''These forecasts assume GRA will continue to make improvements in compliance levels, as well as implement the revenue measures. Furthermore, a budget support of D313 million is anticipated from the World Bank and African Development Bank,'' Touray stated.
Expenditures and Financing
On the expenditures and financing, Finance Minister Touray told deputies that total expenditure and net-lending is projected to rise from D8, 291.0 million in 2013 to D11, 506.8 million in 2014, an increase of 38.8 percent.
''Personnel expenditures are expected to increase by around 26.4 percent in 2014 to D2, 043.5 million. Capital spending, including externally financed, is estimated to rise by 34.9 percent in 2014to D3, 690.5 million,'' he stated.
Touray also told deputies that net domestic borrowing is projected to be limited to D933.5 million in 2014, around 2.5 percent of GDP, external loan disbursements to finance new and ongoing projects is estimated at D2.496 billion whilst the repayments of principals on external loans is programmed at D763 million.
Concluding, the Minister of Finance told deputies that he is convinced that if approved, the budget will be a useful tool to achieve and sustain macroeconomic stability and the Government's primary objective of reducing poverty.
Read Other Articles In Article (Archive)