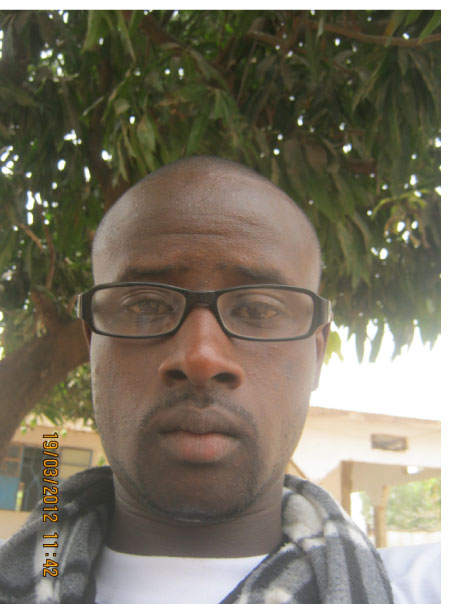 The people of the Upper River Region last Tuesday honoured Alieu Ceesay, senior reporter with the Daily Observer newspaper for his invaluable contribution to the course of sports development during his time as the Observer's regional correspondent in the Upper River Region, which happens to be the farthest region of the country.
The trophy, which was presented to Alieu Ceesay by Abubacarr Krubally, a native of Basse at the Basse youth centre in the presence of hundreds of people, came as the reporter ended and accomplished his one-year and three months of hard work of reporting from the region.
The trophy goes a long way to demonstrate their appreciation of Alieu Ceesay's unwavering commitment in bringing issues from the region to the limelight.
Presenting the trophy, Abubakarr Krubally describes Alieu Ceesay as a hero in the field of Gambia's journalism, saying he (Alieu Ceesay) has reported from all angles during his stay in the region. "I wish to thank and commend him on behalf of the people of URR for his hard work and commitment to duty," he stated, adding that Alieu Ceesay was in good terms with every one, citing that he always involved himself in any activity that is geared towards national development.
"We don't know how to pay you but we will continue to remember you in our prayers," he said, while challenging him to continue his attitude of hard work and respect he is known for in Basse wherever he finds himself.
"I have never witnessed him quarrelling with anyone. He is always happy looking when you see him and always create jokes with the people," he said of Alieu Ceesay.
He wishes him all the best in all his undertaken, while urging his successor to live up to expectations.
For his part, Alhagie A.F. Jallow, chairman of the Youth Association of Basse, joined Krubally in paying homage to the outgoing reporter who he describes as a versatile correspondent who has put URR to the globe. "I always feel great when I read issues about our region on the internet authored by this hard working and respectful young man," he said.
He also praised Ceesay for always being responding to events on time, noting that he was always available for any event and he always provides a befitting coverage," while urging his successor to follow suit.
According to him, Alieu Ceesay goes beyond the borders of URR, recalling that his association had travelled with him twice to Senegal, and he also travelled with The Gambia's delegation for a weeklong annual SAFRA that was held in Tamba Kunda, Senegal, in 2011.
"We will surely miss you but always know that our mind and heart shall ever be with you. May God continue to guide and protect you," he said.
Receiving the award, Alieu Ceesay commended and thanked the people of URR for the award, saying it was a surprise to him, as he was not expecting such from the people. "I was just doing my work as a journalist but thank God that the good people of this region have recognised my work and have today presented this award to me," he said.
"I will at this juncture thank the Almighty Allah, and the management and staff of the Daily Observer for their support and guidance during my stay here as the regional correspondent," he noted, adding that from the Managing Director, Pa Malick Faye to the Editor-in-Chief, Alhagie Jobe and the entire staff of the Daily Observer have been very supportive.
"I cannot forget to thank Alhaji Momodou Sanyang, director general of GRTS, who always advises me to hold my pen responsibly and use it wisely."
He also expressed his profound gratitude to all his colleagues in other media houses both electronic and print media for their support.
He describes the people of URR as good and caring, who are ever ready to share with someone the little they have, while assuring them that he would always remember them. "This award means a lot to me in the sense that it shows the love you have for me."
According to him, the day was a moment of joy in the sense that he has accomplished his duty, but also sad as he is moving away from friends and well-wishers.
"I will once again thank the people of Basse for accommodating me, and my stay here has added a lot to my experience as a journalist."
Read Other Articles In Article (Archive)