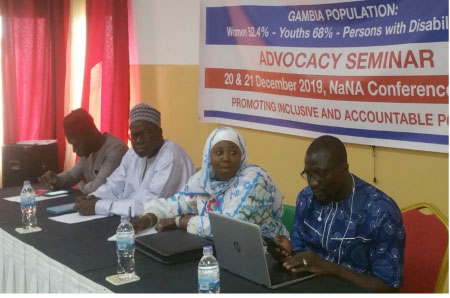 Rohie Bittaye-Darboe, permanent secretary at the Ministry of Women, Children and Social Welfare has said that everyone has the right to vote and be voted for, but women and girls and physically challenged people are diverse group who experience various degree of discrimination and face many systemic barriers in exercising their political rights.

Madam Bittaye-Darboe was speaking on Friday during a two-day advocacy seminar for National Assembly Members on inclusion, participation and representation of women, youth and people with disabilities.
The seminar which brought together NAMS and civil society groups was held at the NaNA conference center.
The seminar is meant to bring lawmakers around the issues of inclusion, participation and representation of youth, women and physically challenged with the wider objective of enhancing the political space to strengthen democracy and good governance.
She further said talked about the inclusion of the marginalised group of women, youth and persons with disabilities in politics, pointing out that temporary measures should be put in place that women, youth and persons with disabilities should not only be cheering and clapping for political leaders but should also be given the chance to participate not only in politics but in national affairs.
"Persons with disabilities should be part of the party structures, selected committees and other national set ups such as education, finance, lack of skills and most especially socio-cultural beliefs and norms do affect the inclusion of women, youth and people with disability," she said.
According to her, in order to increase their participation and representation in the political affairs of this nation, there is a need to consider the promotion of women's and persons with disabilities participation as voters and candidate in electoral processes through training, awareness campaign and promoting equal opportunity in electoral management bodies and also promoting the use of temporal special measures including gender quotas.
Muhammed Krubally, the chairperson of The Gambia Federation of the Disabled noted that disabilities are not the characteristics that define the future of persons with disabilities, noting that they always organise workshops, advocacy sessions and awareness creation for government, non-governmental organisations, parastatals and individuals so that they will be included in policies, programming and decision making in the country.
"Because we believe that if persons with disabilities are fully integrated into policymaking would be a wonderful strategy for any government," he said.
He also called on the government of The Gambia to always consider persons with disabilities in terms of employment, education and contesting for elections both at the cabinet, National Assembly, mayoral and councillors' elections.
Read Other Articles In Article (Archive)