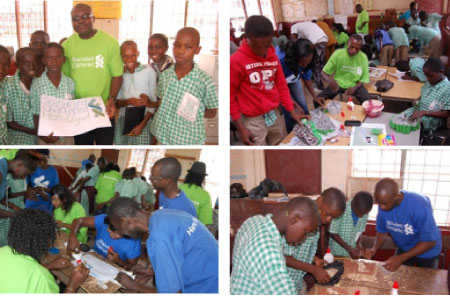 On Sunday 20th April 2013, Standard Chartered Bank's Group Technology and Operations Department carried out an Employee Volunteering (EV) activity at the Albion Primary School grounds in Banjul.  Over 35 staff of Standard Chartered used their employee volunteering day to raise awareness on the Environment and the importance of recycling and reusing materials in our homes, schools and everyday lives.  The staff and students in the Sixth grade joined hands to conduct several activities which included sand painting, waste paper baskets from recycled magazines and newspapers, mosaics from broken tiles, grains, used match sticks, and dried painted seeds.
Mr Richard Ahulu, Chief Operating Officer of Standard Chartered said, "In addition to what we do as a Bank, Standard Chartered goes the extra mile with initiatives like this one to support the communities where we work.  In our work on the environment, we have joined hands with relevant stakeholders and between the years 2009 and 2012, we have successfully planted over 63,000 trees in The Gambia.  The environment is ours to protect and raising awareness on how to do this is exactly what we are doing today.  When it comes to protecting the environment, it is important for everyone to leave here today remembering the 3 Rs – Reduce, Reuse and Recycle".
In addition to these activities, staff of the Bank made a donation of 100 drawing pads to the students for their art and craft exercises. The Acting Head Mistress Ms Gomez expressed her sincere gratitude to the Bank for choosing Albion Primary School and spending a day out of their valuable time to raise awareness on the environment.   She stated that Standard Chartered has been a great partner to Albion Primary School for several years and over the past four years donated hundreds of books and the students.  She urged other institutions to emulate the Bank. 
Karalang Jaiteh, Chief Information Officer of Standard Chartered commented that the most memorable part of the day was students proudly displaying their art work and taking photographs along with their teachers and the Bank staff.   "Our action as a Bank and a dedicated community player is a clear demonstration of our footprint and brand promise that we are 'Here for good'".  
The Bank urged other corporate organizations and institutions to show a commitment to the environment, adding that it is crucial for the entire Gambian community to act as watchmen for each other in combating environmental hazards.  
Read Other Articles In Article (Archive)