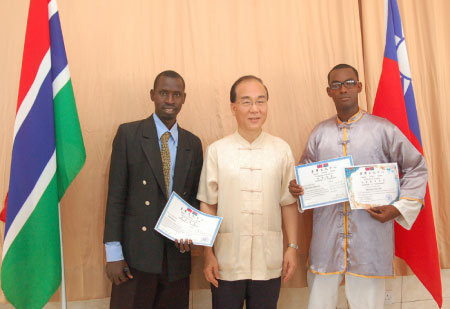 Two students, namely Dawda Bayo and Alieu Bah, recently won themselves the Taiwanese Ambassador's achievement prize in basic Chinese language.
Bayo, a photojournalist, and Private Alieu Bah, a marshal art expert and instructor at Gambia Armed Forces Training School, emerged as winners of the first prize in achievement competition during the recent graduation ceremony of 80 students in basic Chinese language course at the Taiwan Culture Centre.
At the event, an impressive drama was put up by 18 best graduating students in Chinese language, who divided themselves into groups of nine to compete for the top prize.
The nine groups that contested for the ambassador's three prizes put up impressive performances and were judged by a panel of four Taiwanese from the ROC embassy.
The judges observed the pronunciation of Chinese words by the participants, the performance and action and their creativity and choreography of the drama.
Dawda Bayo acted as a Gambian student in Taipei whilst his counterpart Alieu Bah (whose Chinese name was (Sink Chi Kai) acted as a Taiwanese friend residing in  a city of Taiwan but comes to Taipei daily where he works as a doctor.
The two students put up six-minute conversation in Chinese language that attracted several rounds of applauds from the floor.
In the act of drama, the two meet at a Taipei Night Market where their six-minute conversation started and centred on various issues from education, to politics, personality, food and family visit.
The Taiwanese ambassador, His Excellency Samuel Chen,  presented both certificates and cash prizes to the winners after the results were announced and praised and encouraged them to continue learning the Chinese language to higher heights.
"It is important for a soldier to speak as many languages as possible because you don't know where you will find yourself in future," says private Alieu Bah, who also demonstrated an impressive marshal art.
Reacting to their victory, Dawda Bayo said he joined his fellow students on the third week as he was on the waiting list due to his late registration but managed to catch up within the limited period of time he had thanks to the support of their tutors.
Read Other Articles In Article (Archive)