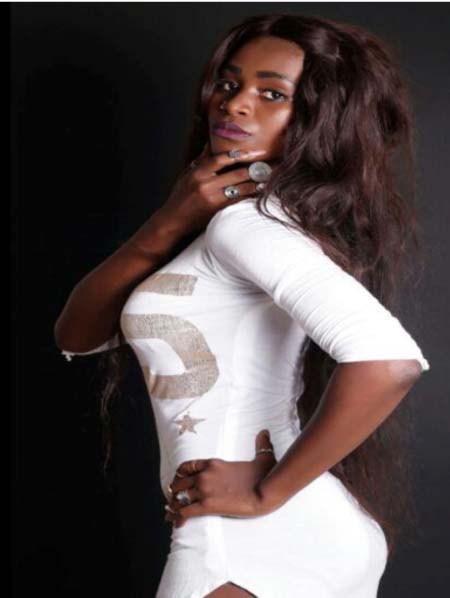 Sophia Byass, also known as the Dancehall Diva, managed by Muhammed Dem, has said that she would never accept harassment in The Gambia music industry to get to where she wants to be.

Sophia was speaking in an interview yesterday held at The Point newspaper's office.
Sophia has been in the music industry for a while, stepping on the dancehall stage that was mainly seen as a male dominated platform.
She dropped hot dancehall songs and featured with Dancehall artistes such as ENC.
To her fans, she is the game changer in the dancehall scene, and that gives her names like "Dancehall Queen."
Sophia is also known for her wildness and crazy outfits on stage.
What amazes me more is that this young lady is down to earth and lovely, and she kept on smiling throughout the interview.
Despite being in the dancehall world, she values her feminine character.
Read on
SHE-SHE-SHE: Hello Sophia and welcome to SHE-SHE-SHE. What is your educational background?
Sophia: I went to Saint Therese's Lower Basic School, then to SOS High School and then studying Travel and Tourism at ITOG. I was a teacher for one year at Blessing Kindergarten School in Sukuta.
SHE-SHE-SHE: Why did you choose Dancehall?
Sophia: I can do any type of music, but I prefer Dancehall because I feel that I can be me more at ease in Dancehall and I can portray more of me in dancehall, because one has to be confortable and I am more comfortable in dancehall.
Also, I think it has more fans in Gambia and the world in general; so I can do dancehall anywhere in the world.
SHE-SHE-SHE: Knowing that Dancehall is a male-dominated area in the music industry, as a female do you feel left out?
Sophia: I am not left out, and I'm with them because I am doing more shows than them. I am even doing better shows than most guys in the dancehall scene.
I think with time it would get better, because most of the female artist tend to lag behind, but with time it would be better.
SHE-SHE-SHE: How many songs did you produce so far?
Sophia: I did a mix-tape and other songs featuring other artiste. I have ten songs to my name, which are officially mine. I am working on an album which is going to be entitled "Determination", and it will be released on February 28, next year.
I will also have a free show at Liquid at October 22nd and there is going to be a preview of the album.
SHE-SHE-SHE: As a Dancehall artiste, do you work with artistes who are not into Dancehall?
Sophia: Sure, that is what makes it musically inclined; because Gambia if you don't fuse African language in the music then you do not belong to Gambia. So any type of artiste that calls me, be it in Afromanding or any type, I can fuse my dancehall in it.
Any music I do, I try to put in the local language because many a time when I sing people don't know it is from Gambia; so I had to put wollof in it so that they would know it is from The Gambia.
SHE-SHE-SHE: Many a time when people see you on stage being wild, they tend to ask - is Sophia a Gambian?
Sophia: Yes, I know people ask me that a lot; but I am a Gambian. I was born and brought up in The Gambia.
SHE-SHE-SHE: Which producers are you working with?
Sophia: Well, I work with different types of producers, because I want to find the music not enclosed. I want it to be spread out, because I believe if you work with one producer you would be doing the same thing.
People are different, so different types of studios produce different type of songs. I work with Stylez and Nova who produced my new song, and most of the producers in The Gambia.
SHE-SHE-SHE: I watch you perform the song "Bad mind can't bring me down". Do you believe that unlike Hip hop, Dancehall should also be controversial?
Sophia: I think music in general has controversies, and there is nothing in this world that doesn't have controversies; and it makes it more fun.
So, in dancehall, it is even worse because it's like using foul words and so rough in dancehall. So controversies are happening in every type of music, though am not sure if Mbalax is having it.
SHE-SHE-SHE: How big is your fan base?
Sophia: I have a huge fan base. I have Movement Sophia, and they have been with me from day one, and they are like family now. So I have a very huge fan base, with technically 6 executives and those 6 executives are the ones that run everything.
SHE-SHE-SHE: Female artistes find it hard to survive in the music industry. What do you think is the contributing factor to that?
Sophia: I think most of us lack focus a lot, because I believe if you have focus there is nothing that would take you out of it. In The Gambia too it is not easy for a female artiste.
Sometimes when you dress up people, call you odd names that make you run away. I remember when I just started people would look at me, and say I am a prostitute.
Also, transportation, because you can't take yourself to shows; as sometimes you are call on shows at 2 am and when you are done, it is around 5 am in the morning. So if you don't have enough money for a taxi to take you home, it becomes difficult.
Most of the female artistes lose focus, and the moment you lose focus, there are so many guys surrounding you; and the moment you are famous every guy wants to jump in on you. So if you don't have the concentration like I am here for this, you would lose it.
They would show you money, cars and different materials, but the moment you start following them they take you off track; and that is why most of the female artiste do not last long, because they go of track.
They jump into marriage early, and when they are married to a guy that doesn't know about your music you cannot stay there.
SHE-SHE-SHE: Sophia always dressed crazily on stage. Who is your designer?
Sophia: My manager's wife. She is a crazy type of woman, but very decent and married; so you know I'm not just from anytime type of way.
I feel it is just me on stage, and people cannot judge what they see on stage and judge me for my lifestyle. I believe the type of music I do doesn't permit me to dress up like a Mbalax artiste.
As you can see, it is not every time I dress up anyhow. Every show has its own dressing. If I am going to the dancehall world, I dress up like a dancehall artiste; but for the women's programmes, I dress up decently.
SHE-SHE-SHE: What are your challenges as an artiste?
Sophia: As an artiste, if you are not working it means you cannot fund yourself. For me, it is very difficult because I'm a female and I cannot do "raba raba" hustling like guys do; and if I do it is like I'm selling my body, which I cannot do.
It is quite difficult and my manager is not financially strong. So it is really difficult financially to get shows going, because you have to hire the venue and pay for the flyers.
I am a female, so I am really trying to keep it that way, and I had to keep my head up and to prove my haters wrong.
SHE-SHE-SHE: We have seen female artistes who joined the industry and, the next minute, they start bleaching. What is your take on that?
Sophia: I'm not that type of female, and I believe it is from the home. Everything you do has something to do with your home, because if Beyoncé, that I look up to, does not even have a tattoo on her skin.
I believe money does not change people, but your own ability to do so. I will never change my skin.
SHE-SHE-SHE: Is there any gender discrimination in the music industry?
Sophia: I will not judge anyone, because everyone has your own opinion and some might be looking for men while some may be interested in women.
In the Gambian music industry, mostly people are saying the females are not doing anything, and I feel that is wrong because they have to try out the females first, before saying they are not doing anything.
They should look for a good female artiste and help, but most of them don't help promote a female artiste; instead they pull them down.
Discriminating female artiste is wrong. People tend to believe in the guys and try to promote them, leaving the ladies behind. When it comes to talent, it is supposed to be 50/50. They should be more concerned with talent than gender.
SHE-SHE-SHE: What is your relationship with other artistes?
Sophia: Being friends with every artiste helps a lot. Most of them, when they have programmes they would invite you; because apart from you being an artiste you are their friend because you cannot invite a stranger to your show.
I put myself really low to every artiste, and I talk with them like my brothers and sisters; and it makes it very easy. So I'm friends with everyone.
SHE-SHE-SHE: Some female artiste will tell you that accepting harassment in the music industry is part of the game. Will you accept harassment?
Sophia: No! I will never ever accept harassment. It is wrong, and I have seen it when I started; because most of the guys would like to get down with you first before helping you out.
One has to believe in what you have, because I believe when you are top people will try to look for you and you don't have to make yourself too available.
Most of these guys, the moment they have you, they would forget you. So I will never accept harassment to get where I am.
SHE-SHE-SHE: What kind of help do you need to get to where you are aiming at?
Sophia: I need a proper promotion out there. I need money to do shows, and go anywhere I want to go. If I have a feature song with some of the big names, it could help. So any kind of help from anyone out there who loves music will be highly appreciated.
SHE-SHE-SHE: The music industry is filled up with relationship scandals. Are you one of them?
Sophia: I am in a relationship, but not someone from the music industry. My man is an accountant; so I have nothing to do with the music industry when it comes to dating.
Finally, I would like to thank The Point for the interview. To every other female artiste out there, stay focused because if you lack focus you will lack everything; and to be determined because determination can take you far. Even if you are not an artiste, if you are into anything, just be determined.
Read Other Articles In Article (Archive)