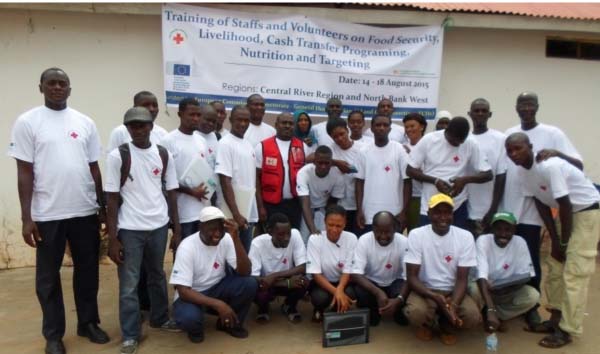 The Gambia Red Cross Society (GRCS) recently organised two-day training for 25 volunteers and partners on food security, livelihood, cash transfer programming, and targeted nutrition.
The convergence, held in Farafenni, North Bank Region, is part of food security and cash transfer component of a food security project that the GRCS is gearing to implement in Upper Nuimi District in North Bank Region, and Sami District of Central River Region north.
The project is to provide immediate support to 2,100 very poor households (i.e.16,100 people) including 2,300 pregnant and lactating women and children under two at risk of malnutrition.
Serigne Modou Joof, deputy executive director of National Disaster Management Agency (NDMA) hailed the Red Cross for complementing the government's efforts in improving nutrition of targeted households in Upper Nuimi and Sami districts.
He urged the Red Cross volunteers to be proactive in providing accurate data on food security situation of households in the two districts.The availability of accurate information, Mr Joof said, would help the right beneficiaries to benefit from three months of cash transfer and food supplementation under the project.
Buba Darboe, disaster management coordinator and acting programme officer at the GRCS, thanked European Commission Directorate for General Humanitarian Aid and Civil Protection for funding the food security project.
He said cash transfer programming in emergencies is one form of humanitarian response which can be used for basic needs and/or to protect, establish or re-establish livelihoods.
"Cash transfer programing in the humanitarian context is fundamental in improving lives and livelihood of affected families," Mr Darboe said.
Arthur Mackossat of Canada Red Cross said the programme would improve food and nutrition security of vulnerable people affected by food crisis in Upper Nuimi and Sami districts.
The project will focus on nutrition support, food security and livelihood protection through cash transfer for 2,100 households and community sensitisation on food and nutrition best practices.
He said the project is an emergency appeal launched by Gambia Red Cross Society and International Federation of Red Crescent.
"The intervention will be based on prevention of acute malnutrition through cash transfer, screenings and referrals, and community sensitisation on food and nutrition best practices for most vulnerable households affected by the food insecurity crises in Central River Region North and North Bank Region," Mr Mackossat.
Ebrima AM Bah, branch chairperson, called on volunteers to uphold the ethics of volunteerism and principles of Red Cross and Red Crescent in serving humanity.
He said the implementation of the project in Upper Nuimi and Sami districts "would obviously contribute" to food security and nutritional supplementation.
Nuha Nyassi, WFP programme officer, in his presentation, told the participants that food availability, access to food and food utilisation are fundamental in determine food security at household levels.
He said measuring food security indicators includes food consumption, food access and nutrition.
Read Other Articles In Article (Archive)