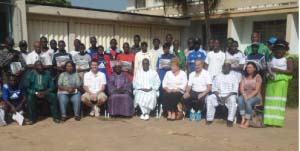 Physical Education teachers, athletics and handball coaches drawn from all corners of the country are currently taking part in what promises to produce an intensive 10-day training programme under the instruction of Walter Abmayr from Germany.
The programme, jointly organised by the Ministry of Youth and Sports, the German Olympic Committee and the Ministry of Basic and Secondary Education, has since got off to a convincing start at the Independence Stadium's Friendship Hostel in Bakau under the watchful eyes of Sheriff Gomez, Minister of Youth and Sports, who said he was extremely delighted to be associated with the course.
"I am really touched by the efforts of the students of the university in making sure they make some contribution towards sports development in The Gambia, specifically to this training programme here and we hope you will continue to do more," Gomes said.
"I am very pleased to be here. Like the DPS said, the commitment has always been there and because of our conviction this training has become a necessity and must not stop. We want to do everything possible for it to happen no matter what the course takes; so that we continue to move on."
He congratulated the participants who made it to this advanced training for their achievement and implored them to inject the training into those at schools, the community and the grassroots for the betterment of Gambian sports.
Minister Gomez went on to say that the priority of the Ministry of Youth and Sports is to take sport to the grassroots for the development of sport for the school-going population.
 "It is only through this system that we will be able to get quality athletes that will represent The Gambia," says the Youth and Sports minister, who has also expressed his intention to see more coordinators, more professionals driving the activities forward for The Gambia.
He used the occasion to lash praises on the German Sports Cooperation, the German Olympic Committee and the German government for their role in making sure the training program happened, as well as all those who have contributed in ensuring the job is a total success.
Walter Abmayr, the course director from Germany, said he is proud to be here to train the Gambian P.E. teachers and coaches.
He used the platform to lash out special praises on youth and sports minister Gomez, as well as the Ministry of Education for their support towards the project.
"Let me seize this opportunity to thank the Minister of Youth and Sports, Sheriff Gomez, for his continuous support in pushing this project to become even more successful," says Walter, who is expected to guide the participants to the training which runs until December 20.
Walter also specially thanked Anita Martin, from the German Embassy, for her role to ensuring the project is realized. "Anita is the one pushing things because without her support, nothing will be done," he added.
Read Other Articles In Article (Archive)