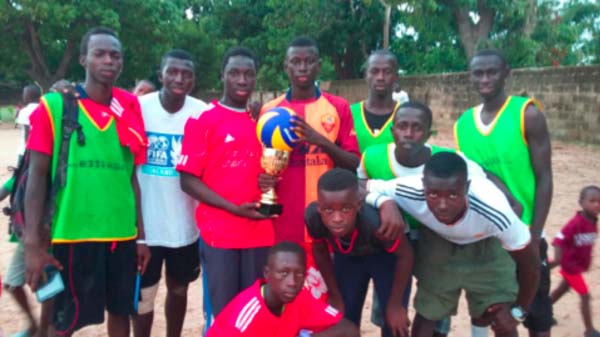 After overcoming tough rivals in the lead-up to the final, Kurumbo Boys were eager to put up a strong fight against their opponents, Sandele, in search of the championship title for the first time.
It was a challenging Sunday afternoon when the Kurumbo boys fought hard to win the championship title.
In the heat of the competition, screams were heard, falls were taken, and tactics were played.
The first set opened with Sandele advancing quickly to a 5-2 lead. Sandele managed to maintain their lead and gain consecutive points before the first technical timeout, bringing the score to 8-2.
After the timeout, the pace of the game intensified as Kurumbo began to chase after the opponents' lead, executing powerful spikes, which were out of reach. In spite of their experience Sandele won the first set 25- 22.
Determined to continue their good form from the first set, Sandele got off to an excellent start in the second set as well, racing into the lead at 2-0.
However, Kurumbo continued to challenge their lead with fierce spikes and managed to reduce Sandele's lead to a draw at 4-4.
While Sandele attempted to create multiple options for setting of the ball, they faced difficulties in overcoming an improved Kurumbo defence, who continued to block and play efficient counter-attacks.
The comeback made by Kurumbo continued to the last ball as they claimed the first-ever regional volleyball title in Kartong.
The final was graced by the president of Gambia Volleyball Federation, who commended the community of Kartong for the giant step taken to promote volleyball in the provinces.
"We want to take volleyball to the doorstep of every Gambian," Barry said. "I think this is a clear manifestation that volleyball is on the rise."
The federation boss, whose board is ready to support regional volleyball, said he is hopeful that great talents could be discovered in the game. 
Read Other Articles In Article (Archive)