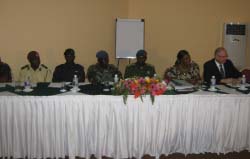 Binta Jobe, Director General of the Gambia Tourism Authority (GTA), has disclosed that tourism is a global and intensely competitive industry with tourists having many options and reasons to visit a particular destination.
The GTA boss made these remarks at the weekend during a one-day Tourism Security Unit/stakeholder Consultative Meeting to address the issue of safety and security of tourists visiting the smiling coast of Africa.
The forum, held at Ocean Bay Hotel in Cape Point, focused on the safety and security of tourists visiting the country. "Security and safety are vital to providing quality in tourism more than any other economic activity thus the success or failure of a tourism destination depends on being able to provide a safe and secure environment for visitors," she explained.
According to Ms Jobe, The Gambia is perceived as being a relatively peaceful and safe destination, which is one of its major assets as a tourist destination and it is a factor that has served the region well and is expected to remain with GTA in the future.
She added that the GTA office is concerned about the incidences of crime within the Tourism Development Area including harassment of visitors, which also impacts negatively on the tourist's sense of safety in the country, she observed. 
She said her office would do its utmost to ensuring safety and security of tourists coming to The Gambia. 
"On October 13, 2010 GTA, stakeholders will coordinate the annual Tourism Security Unit orientation programme in preparation for the winter tourist season 2010/2011," she added.
Delivering his speech on the theme "Role of Tourism Security Unit (TSU) and its Future Plans", Lt. Cora Faye, Commander-in-charge of TSU, said their main role is to protect the lives and properties of visiting tourists and operators within the sector as well as their residence.
"Security is paramount in this crusade," he said calling for a mutual understanding between the TSU security forces and the operators in the TDA.
The issue of hassling will never be compromised this year around the TDA and hawkers loitering around will be stopped, Lt. Faye said, calling on hoteliers, and bar and restaurants owners to provide their employees with ID cards or uniforms to prevent them from being arrested in the area.
Meanwhile, people are advised to call GTA or TSU hotlines on: 3369911 or 9925750, 7366486, 9929020 or 9910327.     
Read Other Articles In Article (Archive)