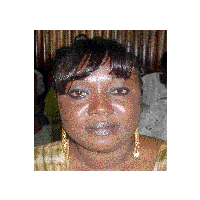 The trial of Oley Sey, the former Nominated Member of The National Assembly standing trial, alongside one Abdou Rahman Bah on charges of conspiracy and stealing is expected to come to an end today.
They were alleged to have conspired and stolen the sum of D500, 000 being the property of JamesJunkungJammehMemorialNursery School at Abuko. Both of them have denied the charges.
This trial that has been dragging for almost five months saw the prosecution putting in four witnesses in trying to prove their case and also the accused persons putting in their defence.
Oley Sey in her defence testimony said she had never conspired to steal, nor did she steal the sum of D500, 000 the property of JamesJunkungJammehNursery School.
She adduced that it was on 30th July 2008 that Abdou Rahman came to her house alone with only D200, 000 in a plastic bag and asked her to keep it for him.
Her counsel, Lamin Camara, earlier made a 'no case to answer submission' on ground that his client has no case to answer, but the presiding magistrate Lamin George of the Banjul Magistrates' Court overruled that she indeed has a case to answer.
Mr Bah in his testimony also told the court that after receiving the money he went with Oley Sey to her house in Banjul where, he said Oley Sey, told him that they should make best use of the money.
He said Oley told him that she could keep the money and that they could invest it in her business in Dubai and later repay the money and share the profit and he gave her D400, 000 and retained the D100, 000.
Read Other Articles In Article (Archive)