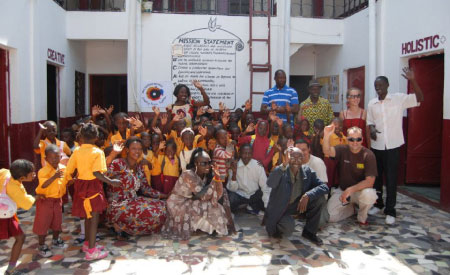 Two officials of the Budapest-Banjul Cultural Bridge from Hungary were recently in the country on a visit to plan the way forward to bridging the two countries' cultures.
Speaking during a press conference held at the Alliance Franco, a founder of the organization and head of the delegation, Thomas Navak, thanked the people of The Gambia, particularly members of the Project Food First.
According to Navak, his delegation arrived in The Gambia some couple of days ago by car travelling for almost 7000 kilometres to The Gambia.
During their visit in the country, the team had some school programmes through which kids participated in drawing.
The idea is to bring the Hungary kids and the Gambian kids together in terms of culture as well as to get them know each other's culture, he told journalists.
The Gambia is the first country to be part of this cultural bridge, he said, adding that the project is now opened in the country with some schools already being part of it, such as the SOS Village in Bakoteh.
From The Gambia, the project will continue to Ghana, Cameron, South Africa, India and other countries in Europe, Navak disclosed.
"In the future our plan is to invite those Gambian kids to Hungary to do the same," he said.
Speaking earlier, Abdoulie Jeng, director of both the Master Peace Project and the Project Food First in The Gambia, said: "This is an international drawing exhibition and is an educational programme that is linking people from different parts of the world from Hungary where it originated and is spreading around to other countries.
"In fact, these people were in Mali but the idea came to us that we can establish the same programme in The Gambia and to give it more substance; so that's why we also tried to include this programme in the Master Peace Program internationally."
Mr Jeng noted that the main objective of this project is to create a link between people from different cultural backgrounds.
"The world is a cultural village and there must be some tolerance, and diversity is the key," he said, adding: "If one understands this multicultural philosophy I think this kind of thing is very good."
Read Other Articles In Article (Archive)