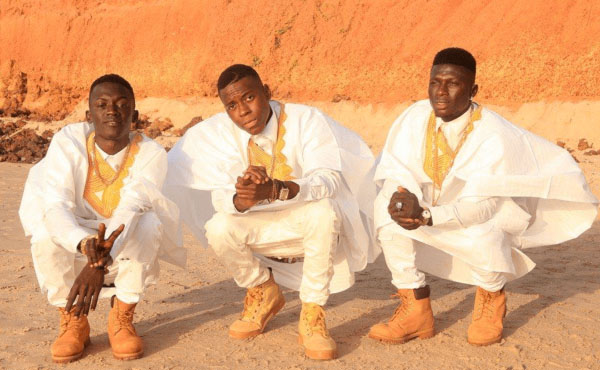 To say 2019 was fruitful for Nobles would be an under-statement. The boy band recently returned from a tour of Senegal, Guinea Bissau and Nigerian and capped-off the year with mega projects from gigs, collabos to partnership deal.

Last year alone saw the group dropped a handful of master hit-songs with plans to do even more in 2020.
However, what makes their songs appealing to its fans is the fact that the group is unique in their music and their captivating dance moves are just amazing.
At a recent press conference, Ismaila Dollar Badjan, representing Money Empire, described Nobles as a phenomenal name in the country, saying off late the group has been undergoing rebranding process to make their presence even more felt in the country and beyond.
He also spoke briefly about the group's recent partnership deal with Money Empire, a label based in The Gambia.
Muhammed Jallow, one of the caretakers of the group, said the group first started as - Street Hustlers back in the days.
"When they started the name everybody was asking why were they called- Street Hustlers? And they had a reason at the time because they thought by coming from the streets of Nema Jola Kunda, they had a vision and a mission. I called the and gave them one advice at the time and I said there will be a reason to separate three of you, but let them no listen to that reason, because it is geared towards diving you and not achieving their goals. So I challenged them to fight as hard as they can," he said.
Pablo, one of the singers, said recently they've been involved in numerous music projects geared towards promoting the country's music scene on the international stage.
He explained that they tried in all their venues to promote Destination Gambia, adding that they've also did multiple collabos with some of the top celebrated acts in Nigeria.
For Aya, lead vocalist of Nobles, the just ended sub-regional tour was a great success and plus as far as their music is concern. He further called on Gambians to embrace the country's music.
"Our main goal is to spread Gambian music as our music is not even known in some African countries. So we thought it is time to spread our unique music styles".
He described last year as the best year so far as Gambian music is concern.
T Berry, another member, expressed similar sentiments, assuring Gambian fans to look for amazing hits from the group.
He believed that it is time to promote Gambian music on the global stage, indicating that it is time for Gambian music to penetrate international music scene, just like other foreign music is penetrating the country.
He also stressed the need for Gambians to promote the country's music just like what is happening in other countries, saying Gambians are generally welcoming in nature. "But it is time to promote our music for the good of the Gambian".
While in Nigeria, the boy band did a collabo with Iyanya, one of the finest acts in Nigeria and also concert performances with Wizkid and Burnaboy. Starting-out in 2013, the Afropop sensation continues to rack up more accolades with numerous singles in their growing career.
Watch out for Nobles upcoming Fill Up Series, gigs and new album in 2020.
Read Other Articles In Article (Archive)