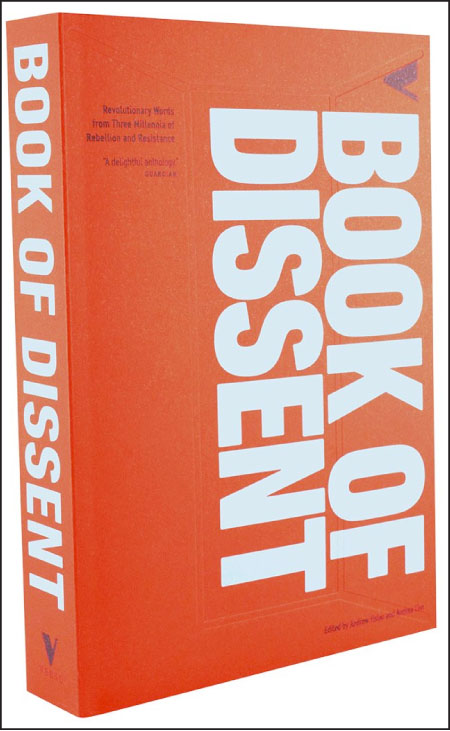 Preface by Tariq Ali

Edited by Andrew Hsiao and Audrea Lim
'WE ARE resolved", wrote English revolutionary Gerrard Winstanley in 1649, "to be cheated no longer, nor be held under the slavish fear of you no longer, seeing the Earth was made for us, as well as for you."
More than two centuries later, Sitting Bull declared: "I have killed, robbed and injured too many white men to believe in a good peace."
In these two statements can be found the tragedy of this Book f Dissent: the hatred of injustice and the consequences of such hate.
This anthology of poems, speeches and other soundbites traces human opposition to tyranny in many forms, from the Spartacist slave revolt to the journalist who threw a shoe at George W Bush.
Across time we meet an eloquent Egyptian peasant, the "mad priest of Kent", a Quechan Peruvian noble, negro abolitionists and gay activists.
The book is very much a celebration of the New Left that took form in the course of the 1960s and has survived, with various modifications, the fall of Communism and 9/11. After an entertainingly eccentric preface by Tariq Ali that attacks pseudo-feminist rehabilitations of Marie Antoinette, the reader is treated to a very right-on compendium of opposition to authority.
Up against the wall are monarchy, capitalism, colonialism, homophobia and misogyny. Victoria Woodhull declares that "Yes, I am a Free Lover"; Oscar Wilde opines that "As for the virtuous poor, one can pity them of course, but one cannot possibly admire them"; whilst Muhammad Ali asserts: "No Viet Cong ever called me nigger."
Given the cruelty of history, there is little escaping the violence of such dissidents. In 1899, during China's Boxer Rebellion, the "Righteous Fists of Harmony" described their western oppressors with vicious lyricism: "Their men are all immoral;/Their women truly vile./For the Devils it's mother-son sex/That serves as the breeding style".
For Robespierre, "Peoples do not judge in the same way as courts of law", before he too, at the end of the Terror, went to Madame Guillotine. In her "SCUM Manifesto", gendercidal feminist Valerie Solanas derides "Big Daddy in the corner shitting in his forceful, dynamic pants".
It is therefore a relief to hear Leon Trotsky, founder of the Red Army and the man who "shot down like partridges" the Kronstadt rebels, declare in his last testament: "Life is beautiful. Let the future generations cleanse it of all evil, oppression and violence, and enjoy it to the full."
Such conflicted destinies show both the value and the limitations of this fine volume. Dissent seems limited to enemies of the West, economically and ethically. Chilean poet Pablo Neruda denounces the power of the United Fruit Company; Iranian Jalal Al-e-Ahmad attacks "Occidentiosis"; Nelson Mandela tells the court: "I do not deny that I planned sabotage." There is no reference to dissidents in the former Communist bloc, with the exception of Soviet physicist Andrei Sakharov and Polish Solidarity's Adam Michnik, and some opposition to the authoritarian capitalist drift of the Chinese Communist regime. It can safely be said that this book will not figure in any Israeli cultural centre.
Available at Timbooktoo Tel:4494345
Read Other Articles In Article (Archive)