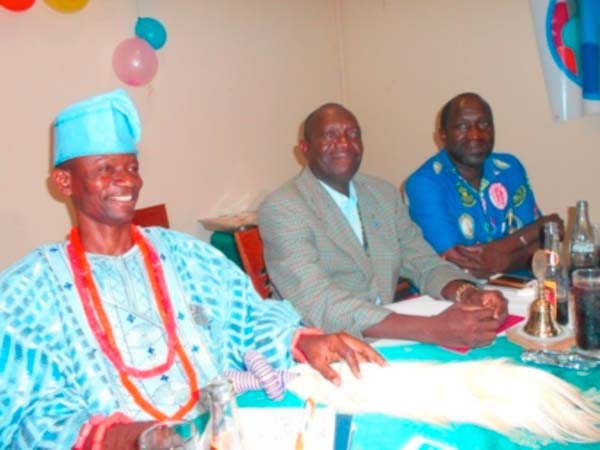 The outgoing executive members of the Rotary Club of Banjul Thursday handed over their mantle of leadership to the incoming executive as their tenure of office ended on 1 July 2017.

The new executive members who were elected to serve one year for the club, assumed duty on 1 July 2017.
Speaking at the handing over ceremony, the outgoing president, Abdoulie Cham, commended the executive members of the Rotary Club of Banjul, especially the outgoing assistant district governor for their encrougement and support.
He said this would have not been possible without teamwork, hard work and commitment among his members.
Mr Cham mentioned a lot of projects that they were able to undertake during his presidency.
He assured to work hand in glove with the new executive members of the Rotary Club of Banjul to achieve their dreams and thanked the incoming members.
He commended all those who contributed in one way or the other during his tenure in making it possible for him to register tremendous achievement.
In delivering a word of wisdom, the current Assistant District Governor 9101, Minyan Jobe, thanked the outgoing president of Rotary Club of Banjul for the tremendous achievement registered during his tenure of office.
Mr Jobe said rotary was all about teamwork and it needed a lot of commitment in implementing its projects, which was geared towards giving back to society.
He emphasized that the past president succeeded because of the elders that were in the club, saying that they have been very supportive.
Mr Jobe asserted that rotary is not personal but contributing to the society, adding that Rotarians should start it at their family levels and its environments.
Mr Jobe urged Rotarians to come together and make a difference and he also challenged the African leaders to emulate Rotarians for changing their leaders annually without any conflicts.
Also speaking, the outgoing Assistant district Governor 9101, Safiyoung Manneh, hailed the outgoing members for their hard work and for implementing numerous projects during their tenure.
He` said it was not an easy task but with commitment, hard work and unity, they were able to succeed.
He also advised the incoming members to double their efforts and ensure that more projects and focus areas are implemented.
The newly-elected president, OBA Moshood Abolade 2017-2018, expressed joy and appreciation for the position, saying this was a big trust and challenge but with the caliber of members within the club he would live up to expectation.
He thanked the outgoing members for their hard work and commitment to the club.
Read Other Articles In Article (Archive)