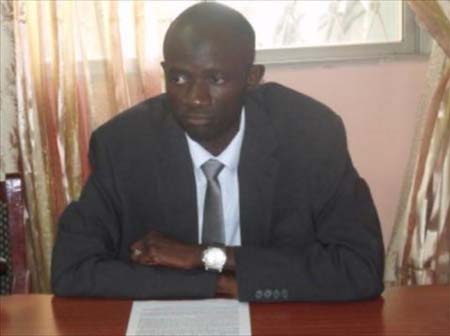 It is my pleasure to welcome you all back to the Independence Stadium for the occasion of our traditional May Day celebrations.
I thank His Excellency the President and his government for the support in ensuring that we are able to install this state-of-the-art running track here for your use.
In general we acknowledge all our partners in the development of sports in the country. Special mention is made of GPA, GAMTEL/GAMCEL, SSHFC, GCAA, GIA, and MGI
The Ministry of Youth and Sports and its entire staff bask in with pride and gratitude that their persistence and consistence in the pursuit of the common good is bearing fruit.
Looking around one can feel a scintillating air of freshness. Slowly but surely the stadium is being refurbished and on the right trajectory with a robust management. I dire say that more is coming as indeed more is assured.
Taking cue from that, and as workers coming from all sectors of our economy I remind ourselves that it is our collective performances that will propel this country to the highest level of development we desire.
From today, let us renew our vows to country, to all our various work places, that we shall work selflessly and tirelessly for progress of the country and our institutions in peace and harmony.I challenge you to prioritise the achievement of the common good in the fulfillment of which the personal satisfaction of all is assured.
The philosophy of sports elaborates this theory as it is always about we and us. Sports know no tribe, no ethnicity, no language, no religion, no colour, no artificial social status and no any persuasion. It only knows fun, pleasure and desire to achieve to bring smiles on the faces of many.
So once again, in our very unique way, we celebrate our workers in The Gambia on May Day by blending it with sports so that we can break barriers, build bridges recommit and re-energise our resolve to deliver to expectation in our assignments.
On that note I wish you all an enjoyable day and declare 2016 edition of May Day mass sports open.
Read Other Articles In Article (Archive)