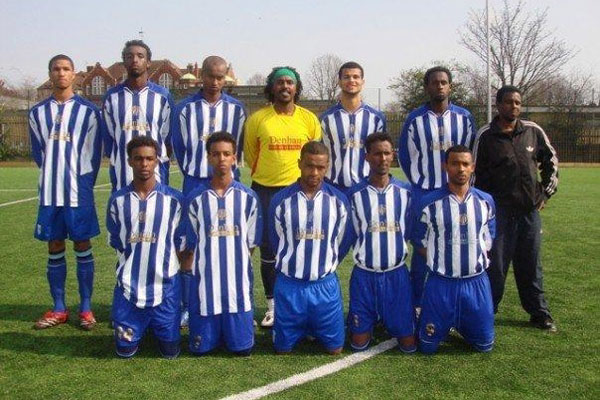 The London Stars, a team made up of Africans and other Nationals, mainly Somalians and Caribbean's, and based in the United Kingdom, will arrive in Banjul today to take part in three international matches with local teams.
The team is expected to land at the Banjul international Airport by 2.30pm with the Second tallest man in the world,Mr. Hussein Bissad (2.40m),
among them and will be lodged at the Friendship Hotel in Bakau.
The London Stars is composed of 18 players and three officials and will play their first international match with hosts, Steve Biko at the Independence Stadium in Bakau on Thursday January 29th2009.
Two days later on Saturday January 31st2009, the same venue will host the team's encounter with The Gambia U-17 side.
The London Stars of England final international game will be against Armed Forces at the Brikama Mini Stadium on Monday February 2nd2009.
According to Mohamed Hersi and Mohamed Abdulkadir, both Somalians in The Gambia who are co-ordinating the team's visit, matches will promote friendship and cultural exchange.
London stars FC was established in 1999 in London and is one of the best teams in the city. The Gambia will be the first West African nation to host London Stars. They have however been to other parts of the continent recently. The played a friendly game with the Djibouti National team, and other East African Nations in recent months. Some of the players are members of the Somali national team and took part in a recent tournament in East and Central Africa in Kampala, Uganda. They have also made similar tours to Europe and Canada and have won many cups.
"There has never been any game between The Gambia and Somalia and this will be history for being the first game in Banjul," said Mohamed Hersi.
He pointed out that The Gambia was chosen because of its location and name in football adding that the team has being to East and Central Africa.
"We are also looking forward to future collaboration with The Gambia like inviting the U-17 and Steve Biko to the United Kingdom for friendly games," Hevsi added.
Tickets for the matches are VIP D100, D25 and D10 for covered and uncovered pavilions respectively.
The proceeds of the games are meant to support the U-17 team for the Algeria 2009 and Armed Forces for their WALO championship in Guinea Conakry in April.
Read Other Articles In Article (Archive)