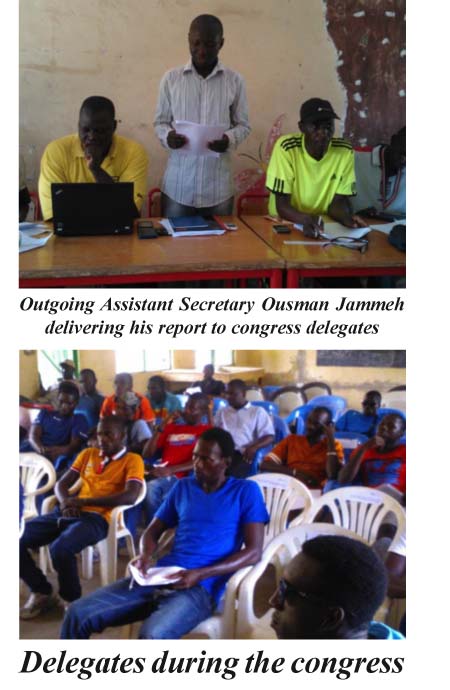 Lamin Darboe has been re-elected as the president of Gunjur Sports Committee for the next three years unopposed.
Darboe was re-elected at the Committee's third annual general congress held at the Gunjur Daycare Centre on Sunday.
Momodou Moncharreh Jibba was elected as the first-vice president and Lamin Wandi Darboe elected as the second-vice president.
Ebrima Fabou Jammeh was elected as the secretary general, Pa Ebrima Kunta, 1st assistant secretary general, Ousman Bajo 2nd assistant secretary general.
Nuha S. Barrow was elected as the treasurer, Assan Jassey, assistant treasurer, and Hatab Darboe, auditor.
Seedou Kunta was elected as the public relations officer, Nyara Janneh, assistant public relations officer, and Lamin Darboe, media officer.
Delegates observed one minute silence for the former 2nd assistant secretary general, late Modou Janneh, who passed away on Friday 12 June 2015.
Speaking after his re-election as the president of Gunjur Sports Committee, Lamin Darboe thanked the delegates for re-electing him as the president of the committee for the next three years.
Darboe also thanked his executive members for accepting their positions to be on the committee, adding that they would put in all efforts to promote and develop sport in Gunjur.
Darboe assured Kombo South District Sports Committee chairperson Buba Bada Bojang that Gunjur will participate in the next Kombo South district football tournament.
Darboe also hailed Gunjur United coaching staff for their tireless efforts in seeing through the West Coast Regional third division league.
Darboe challenged the coaching staff to redouble their efforts in order to secure good position next season and gain promotion to the second division.
Chairperson Kombo South District Sports Committee, Buba Bada Bojang, advised the players to change attitude for the better, adding that many people who have had positions in Gunjur have had to resign because of the attitude of players.
Bojang added that Gunjur is blessed with educated people, noting that many people opted not to handle positions because of the attitude of the players.
For his part, the outgoing assistant secretary, Ousman Jammeh, said congress is a constitutional mandate before the start of the new nawettan season.
Jammeh stated that sixteen teams registered for the 2014-2015 Gunjur Nawettan and fifteen teams registered for the Intermediate nawettan.
Jammeh further stated that Late Dembo FC have won the league competition sponsored by Solid Properties, whilst Farms Engineering FC won the knockout competition.
Jammeh added that Young Santos FC have won the intermediate league competition, whilst Ajax FC clinched the knockout competition.
Jammeh said Gunjur did not take part in Kombo South district football tournament for three years because of financial constraints.
Jammeh also revealed that Gunjur have taken part in premier games sponsored Super Nawettan and lost to Brikama 2-1 in their opening game, but hopes are high following the team's brilliant performance against Sateyba boys. Since then, he added, the team has continued to do well in their remaining games but their hopes were dashed after losing to Serrekunda East 3-0 before their 1-1 draw with BEM and Bakau. They wrapped up their super nawettan campaign with a slender 1-0 win over Sukuta.
Jammeh further revealed that Gunjur United have participated in the West Coast Regional third division and they were topping the league in the first round but finished fourth at the end of the season after finishing second place in the 2013-2014 season.
According to Jammeh, Gunjur Sports Committee, in collaboration with Gunjur Athletics Association, organised inter-house athletics championship to raise fund for Gunjur Zonal team's participation in the 2014 Super Nawettan and also the development of Gunjur Nyamina Football pitch, which is among the committee's development agenda.
Read Other Articles In Article (Archive)