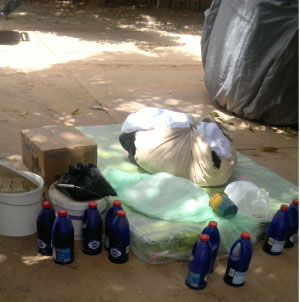 Kanifing Municipal Disaster Management Committee (KMDMC) on Saturday presented food and non-food items to 23 fire victims within Kanifing Municipality at a ceremony held at Kanifing East Community Centre.
Speaking at the presentation ceremony, the Chairman of the KMDMC, Musa Mendy, expressed sympathy with the fire victims.
"These materials I know will not be enough for you but still whatever you have from the KMDMC just make the best use of it. Please don't misuse it because where this things come from it is not easy to gather them," Mendy told beneficiaries. 
He also told family members that they were selected among the lot, noting that for his committee they are not looking for who is who but what they are interested in, is to make sure that all those affected either by fire or floods are assisted.
For her part, the Disaster Management Coordinator for Kanifng Municipality, Binta Sey-Jadama, explained to the beneficiary family members how they conduct their distribution to disaster victims within the municipality.
 "We have some items for you but we know they would not be sufficient for you as you may expect, but make best use of the little you will get here, and let me advise you to always be mindful of the dangers in leaving candles lit in your house while you are outside the house having cool air," Mrs Sey-Jadama advised the beneficiaries drawn from Ebo town, Dippa Kunda, Latri-kunda German, Faji-kunda, London Corner and Old Jeshwang.
The items presented included sachets of soap, hand-washing basins, kettles, secondhand cloths, gallons of 5liter cooking oil, and mosquito nets.
Susan Njie, a beneficiary family member from Old Jeshwang, in her vote of thanks on behalf of her colleagues, thanked the committee for always coming to the aid of disaster victims in the municipality
Read Other Articles In Article (Archive)