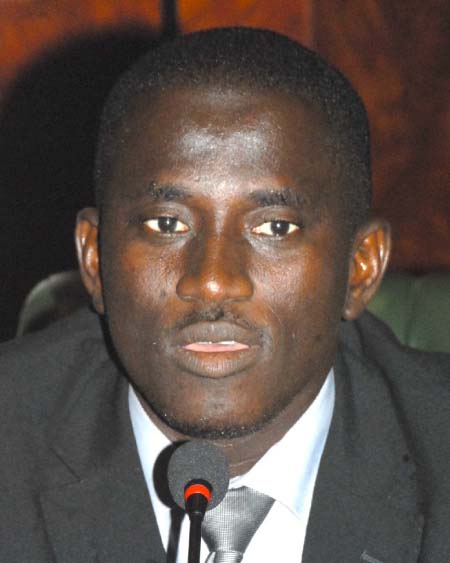 The Alkalo of Bijilo village, Sulayman Jatta, is the second prosecution witness to testify in the trial of the former Secretary General and Minister for Presidential Affairs, Momodou Sabally, before Justice Amadi of the Special Criminal Court in Banjul.
Testifying yesterday, Sulayman Jatta told the court that he is the Alkalo of Bijilo village and also works at NAWEC.
He recognised Sabally, as he went to Sabally's house with the first prosecution witness and Assan Ndoye.
He was introduced to Sabally by one Alagie Kebba Jallow, who told him Assan Ndoye came to The Gambia with two vehicles.
Kebba Jallow called him through his phone and he went to Jallow's house, where he was introduced to Assan Ndoye. Ndoye was with the two vehicles he wanted to sell to the President.
However, senior defence counsel Gaye objected, saying the part of the evidence in which the witness was narrating what Kebba Jallow told him was hearsay.
Counsel said reference to whether the cars were brought for sale or donation should be expunged by the court.
State counsel O. Danso said the witness stated that piece of evidence not for its truth, but for the fact that it was made.
The trial judge, Justice Amadi, overruled the objection.
Continuing his evidence, Jatta said Jallow told him that Ndoye was finding it difficult to see the President and he (Jallow) told Ndoye he could not take him to the President, but would introduce him to the first prosecution witness, who is a friend to Sabally.
He then called the first prosecution witness and explained the situation to him, and PW1 told him he would help them see Sabally.
After a few days, he went on, PW1 came to his house and was introduced to Ndoye. After seeing the vehicles, he told them that he would take them to Sabally together with the vehicles.
Jatta further adduced that during the weekend, PW1 called him and he went with Assan Ndoye to see Sabally at his home.
They found Sabally in his house, where they were introduced to him by PW1 after which Ndoye explained to Sabally why he came to The Gambia, and also said he has two vehicles to sell to the President.
They had a long conversation in the house, between Sabally and Ndoye, and Sabally told them that he was in a haste to go to Banjul; thus they went out so he could see the vehicles.
Sabally said the vehicles were beautiful and the President was going to like them. Sabally also told them that if he sees the President, he would talk to him about the vehicles and would call them to tell them about that, Jatta told the court.
Jatta further stated that after sometime, he received a call from PW1, who told him that Sabally said they should meet in Banjul by 6 pm.
He said they went at 6pm and met with Sabally at July 22nd Square in Banjul.
The case continues on 9 February 2014.
Readers would recall that Sabally is standing trial on an eight-count charge including economic crimes, neglect of official duty and giving false information to a public servant.
Read Other Articles In Article (Archive)