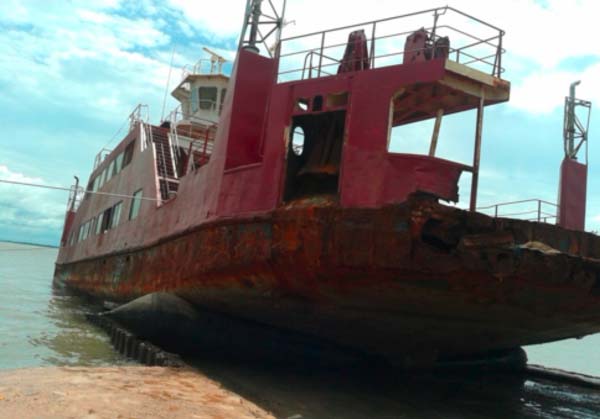 Hands on Afrika Trading Company in partnership with the management of the Gambia Ports Authority (GPA) are currently on the maintenance of the Kanilai ferry.
This was revealed by Moses Sonko, a Gambian in the United States who doubles as the founder of Hands on Afrika Trading Company, during in an interview with this reporter in his office in Banjul regarding the maintenance of the ferry.
Sonko was at one time an employee of NAWEC, and travelled to the U.S. for further education in electrical and electronic engineering and is currently a fiber optic network field engineer for Verizon Communication in California.
He is also the Chief Executive Officer of Hands on Afrika Trading Company that imports quality merchandise into The Gambia.
According to Mr Sonko, Hands on Afrika Trading was founded in June 2002, and the partnership between his company and the GPA started in December 2013.
He said two years ago, coming from the U.S. via Dakar, he arrived at the terminal in Barra and could not cross because there was no ferry; it had a break down.
It was when he realized that the ferry service was a big problem in The Gambia.
He then approached the GPA with a proposal to build a new ferry. After the presentation, GPA expressed the need to slip up Johe for maintenance.
He then told the management that he has a company in China which builds ships, and was in China and saw the launching of a ship.
Back in the United States through his company, he contacted his partners in China, whose response was that they can slip up the ferry.
Sonko led the negotiation with the GPA and saved them US$100,000 he told this reporter, and then came with his partner in China to The Gambia to start work on the Kanilai ferry.
Sonko was glad to have facilitated the partnership, and contribute his quota towards the development of his country.
Right now Kanilai is in the process of being repaired, and the GPA has said the maintenance will take 16 weeks to complete.
Kanilai is much bigger than Johe, and also has more serious damage, that was why the maintenance will take 16 weeks. 
Read Other Articles In Article (Archive)