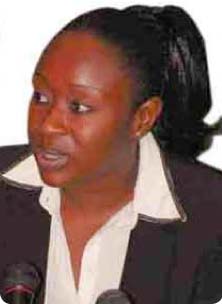 The Attorney General and Minister of Justice, Mama Fatima Singhateh, Tuesday tabled the Industrial Property Act (Amendment) Bill, 2015 before the National Assembly members.
Presenting the bill, the Justice minister reminded deputies that in August 2014 the National Assembly ratified the Madrid Protocol on the international registration of marks, which is administered by the World Intellectual Property Organization (WIPO).
WIPO enables trademark owners to secure protection in several countries by a single registration in their national trademarks office, followed by a deposit with the international office at WIPO in Geneva and designating other member states where protection is sought.
Justice Minister Singhateh further informed the deputies that the Madrid Protocol provides one single procedure for the registration of a mark in several territories.
With The Gambia joining the Madrid Protocol, Gambian trademark owners could protect their marks in over 80 countries through a single registration system and it would also facilitate foreign trademark owners who wish to register their trademarks in The Gambia, she said.
In this way, she added, a lot of foreign currencies would be accrued to The Gambia from trademark applications under the Madrid system.
Accession to the Madrid Protocol necessitates the alignment of our national intellectual property law with the requirements of the protocol, she announced.
Therefore, she went on, the bill principally seeks to amend the Industrial Property Act to recognize the use of the Madrid registration procedures under the law in The Gambia.
"The bill also seeks to amend the provision of our Industrial Property Act relating to the period of protection granted for patents under the Industrial Property Act."
"This is intended to bring our Act in line with international standards embodied in the World Trade Organization (WIPO) Trade-related aspects of International Property Laws (TRIPS) Agreement," she further stated.
Hon. Fabakary Tombong Jatta, member for Serrekunda East and the Majority Leader, seconded the bill.
Read Other Articles In Article (Archive)