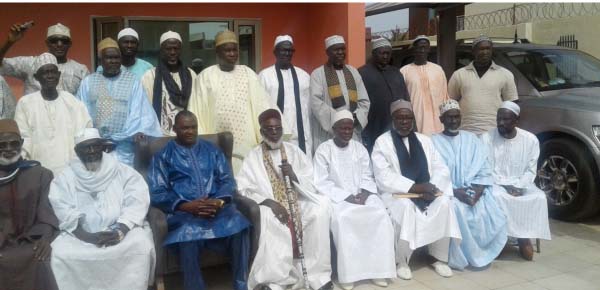 Members of the Supreme Islamic Council led by their president, Mohamadou Lamin Touray, who was accompanied by several Muslim dignitaries, among them the Imam Ratib of Banjul Alhaji Cherno Kah, Banjul Muslim elders led by their president Alhaji Alieu Mboge, paid a courtesy call yesterday Sunday on the President-elect Adama Barrow.

Touray said: "We are here to congratulate you for your victory. We pray for peace, stability and tranquility."
"We members of the Supreme Council are here to work with any government in place. We pray for national reconciliation, peace, tranquility for the president-elect and the people of The Gambia."
Muslim elders told president-elect Barrow that Allah has given him the leadership of the country.
"You should be guided by the principles of truth and honesty to lead the nation to success and to bear in mind that Allah protects all."
President-elect Barrow and Ousainou Darboe said: "We're grateful and thankful to the Muslim elders for their courtesy call."
They asked them to pray for the new government and the country, for Allah's guidance to enable them to carry the country without hindrance and without fear or favour, and God's blessing.
According to sources, during Thursday's meeting at State House, the country's religious leaders urged the president to "accept the will of the people and God", and to reconsider his decision and accept the result of the 1 December election which he lost.
Imam Ratib Cherno Kah said: "With the election results of December 1st, Allah ends your leadership. God has given Barrow the reins of the country. We pray for peace and stability for the people of The Gambia."
Bishop Fall of the Methodist Church referred in no uncertain terms to the election result, and of the importance of Barrow, who won the election, to take over the reins of power immediately.
Alhaji Alieu Mboge, president of Banjul Muslim Elders said: "We should reconcile. We have been always praying for peace and stability, and I buttress what the Imam said to accept God's decision on this election."
Read Other Articles In Article (Archive)