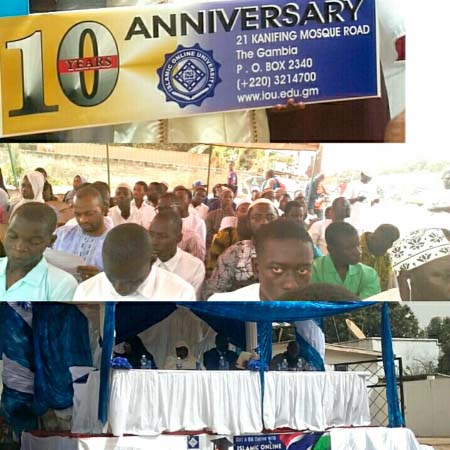 The Islamic Online University (IOU) on Friday celebrated its 10th anniversary in form of a symposium on how it has globally completed a decade long tuition-free education provision.
The event attracted scores of people within and outside the education sector at its campus in Kanifing South.
Speaking on the theme, Use of Internet in Seeking Authentic Knowledge, Momodou Sabally commended the university for its creativity in providing higher education online, saying it is in line with today's age of intelligence and cutting edge technology.
"Online teaching is the cutting edge as far as higher education is concerned. The future is online," said Mr Sabally who doubles as the managing director of Creative Future Thinkers Media (CFTM) Group and editor-in-chief of GLife Magazine.
He said in as much as there is a lot of knowledge online, there are pitfalls people must guard against in the search for authentic knowledge, adding that people should always check the source of online information for authenticity and reliability.
He noted that the keys to seeking authentic knowledge online are sincerity, wisdom and the holy Quran.
"Let the Quran be your searchlight in this forest of information called the Internet; whatever contravenes the teachiangs of the Book of Allah must be thrown out into the garbage, no matter how plausible that information may appear," the former MD of GRTS said.
The country representative of IOU, Aminata Jaiteh, said they were delighted to witness and share their successes at the university clocked 10 years.
The new vice chancellor of IOU, Mariama Sarr-Ceesay, said the IOU is moving to become a Center of Excellence that would focus attention on affordability, accessibility and authenticity of acquiring higher education globally through modern technology like the internet.
The founder and chancellor of IOU, Dr Bilal Philips said since inception in 2007, more than 300,000 students have studied at IOU from more than 228 countries.
"The university has achieved unimaginable success with regards to spreading its message globally," he said.
IOU in 2010, started a bachelor's programme in Islamic Studies and gradually courses like business, education, information technology and psychology were added.
Dr Bilal expressed gratefulness to Allah that they have been able to reach out to the Muslim Ummah and hopes to reach more people to have an even greater percentage.
Since the establishment of IOU in The Gambia in 2013, more than 1,500 Gambians have benefited from the IOU's English, Arabic and IT programmes.
The university offers students structured and organised intensive programmes in the most convenient and innovative way.
Read Other Articles In Article (Archive)