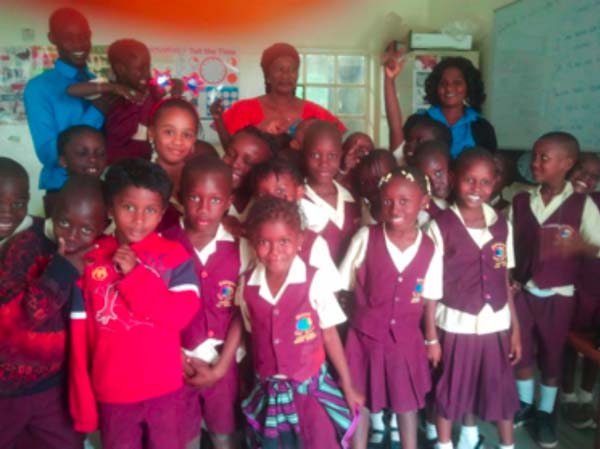 SBEC International School recently held its annual eight-week literacy programme, from the 15 to 17 December.
Speaking at the programme, the acting head teacher of SBEC International School, Badara Cham, expressed his gratitude to witness another annual programme, which promotes reading and nurturing the talents of children in drama, poetry, and extra-curricular activities.
They invite parents and management committee members to talk to the children on their own experience on pertinent issues.
He highlighted the meaning of the acronym SBEC, which means the Shiloh Bilingual Education Centre, which was established in 2001.
Cham further noted that the school operates an ECD Centre for Arabic and English Language and another ECD Centre, as well as junior and high schools for English and French studies.
There is also a college for professional studies, he said.
According to Cham, the Standard Assessment Test (SATs) was the international examination students in Grade 6 sat in the 2013/14 academic year.
The junior school registered 82 candidates and they sat for two papers, English Language and Mathematics, 78 percent of the candidate passed in English Language, 11 candidates got a distinction; and 91 percent in Mathematics and 5 of them got a distinction, he announced.
He added that for on the National Assessment Test (NAT) conducted by WAEC, and done by the Grades 3 and 5, SBEC registered 59 candidates in Grade 3, for three papers, English, Maths and Integrated Studies. 90 percent passed in English, 85 per cent passed in Mathematics and 91 per cent passed in Integrated Studies.
For Grade 5, there were four papers, English, Maths, Science and Social Studies. 98 per cent passed in English, 90 per cent passed in Maths, 80 per cent in Science and 93 passed in Social Studies.
Mr Cham further disclosed that SBEC International Junior and High Schools have registered with Cambridge International Examination, a sister body of Cambridge University and give learners an excellent foundation for secondary and high school.
The vision of SBEC International is to be the leading international school in shaping world changers, he said.
The guest speaker, Joseph Mendy, Secretary General (EFA) Education for All and head of the English department at LatriKunda Upper Basic School, said he was impressed with the performance of the students, noting that a baby is hardwired to learn a language.
According to him, learning to read is not natural, it has to be taught.
EndFragment
Read Other Articles In Article (Archive)