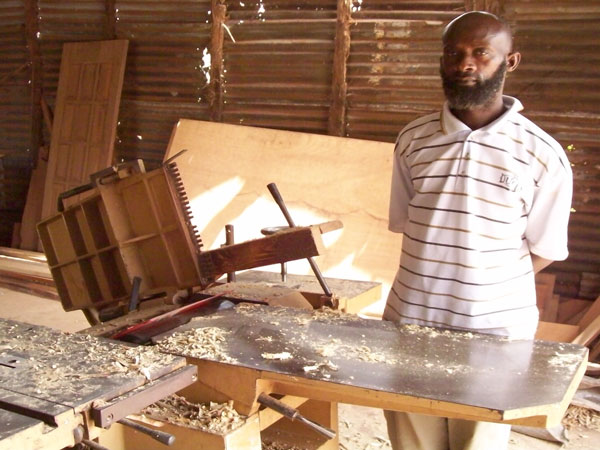 Bampha Jaiteh started from teaching and was eventually retrenched leading him to work in the hotel industry and subsequently getting an opportunity to go to
Germany
where he got the opportunity to work with an NGO that fought for the rights of asylum seekers and others. He became a victim himself and got his asylum appeal revoked. It was upon returning home that Bampha set up his carpentry workshop and eventually got men to work for him. His carpentry shop, "Wallo Kunda Carpentry" is established at Sanchaba High Way in Bakoteh with a good team to work on furniture, roofing, doors and in general carpentry. Augustine Kanjia asked Dampha on how he started and how he has been striving to help the community and creating employment for the young.
S&D: Can you please tell me about yourself sir?
Bampha: I was born in 1968 at Njabakunda, in Centre Badibou in the North Bank Region. I attended the Njabakunda primary and went to Armitage from 1979 to 1984. I joined the teaching field for two years at the Kossemar primary in the Upper River Region and was affected by the retrenchment programme in 1986 under the then PPP government.
S&D: Did you think that was the end for you in searching for self-sufficiency?
Bampha: No! When the massive retrenchment programme affected me, I joined the hotel industry and served as an Assistant Beverage Storekeeper and eventually Storekeeper at the ABC Stores. In 1990 I traveled to Germany and stayed there for two years. I joined an NGO called ASYLEV, established to fight racial discrimination and to fight for the rights of immigrants and I was their mouthpiece. When my asylum was revoked I decided to return home and establish business, initially in textiles at the beginning of my business career. Beside my business I have another talent in poetry and I have written a number of poems and articles in the Observer Newspaper in 2005.
S&D: Can you give me a line of one of your poems?
Bampha: SaharaDesertOh, Valiant desert, Sahara deserts angry desert. Subdue thy anger And halt impeding!
S&D: What happened after this?
Bampha: By the end of 2005, I decided to establish my carpentry workshop, known as Wallo Kunda Carpentry Workshop situated at Bakoteh Sanchaba High Way, to mainly uplift the unemployment scale of the country. I have seven paid staff and one watchman. About fifteen young men are under training in carpentry.
S&D: How can you rate your enterprise?
Bampha: It is a small business enterprise but as we progress we look forward to contributing our quota to national development. And this is not far from us again. We have our patronisers in the companies of Cityscape and Coconut Resident. We are thankful to them and we are asking others to join in so that they will also enjoy our handwork, a real Gambian taste.
S&D: Is there anything that puts you ahead of other carpentry shops in the country?
Bampha: Yes! We have the latest technology in woodwork like Plaining, Designing, Mortising, Ribbit Turning and more. We have powerful machines to satisfy our customers at all times and in different areas of satisfaction. We have had a tremendous improvement in all areas because of the fact that we expose quality, which sells us and we have maintained our position since our inception. My workers are happy because I always motivate them to love the job my other area is flexibility.
S&D: What is your relationship like with people as I see people gather to see you for one thing or the other?
Bampha: In any human interaction one has to be patient to attract or win public confidence and business in particular. Yes, I am flexible with my customers and all human beings I embrace everybody.
S&D: Have there been challenges from the beginning that you have overcome now?
Bampha:There were big challenges that hampered our job, one of them was electricity or power cuts. But with the coming of President Jammeh as the SoS for Energy and Power, everything has changed and customers do not complaint now for waste of time as in the past. Market outlet was another problem. Before we did not have customers as we do now. Anyhow as I told you, one has to have compassion. To win the heart of others is better than having their wealth. One has to be focussed, committed and trustworthy above all with a dependable character. My policy is sharing. I have done a lot of jobs for my customers that have earned me good name especially for Coconut Resident and Cityscape. With all these, I have only one regret that is, a long time ago one of my workers had a minor injury due to the complexity of the machines. It was only a minor thing.
S&D: What aspect of carpentry do you do here?
Bampha: We do general carpentry, comprising all aspects especially construction, roofing and furniture. My men are good at all these but for now we are concentrating on furniture because customers are not coming for the other areas. People should just try us to see what we can do. They tried us in furniture and they have seen, others have tried us in other areas and they have stayed with us, others should come and see and stay with us. The caliber of my workers is high due to their desire for their job. This should be able to help others come to experience the real Gambian touch in carpentry. Putting all their talents together we are able to do the modern carpentry comprising all areas in carpentry.
S&D: Do you have any advice for your fellow carpenters?
Bampha: My advice to my fellow carpenters is that they should stand up and form an association so as to help other carpenters and ourselves. It can be done by establishing an executive to run the affairs of the association. This is a concept, we have to write to those in the trade to come together and make the concept work. The time will come when this would be made possible for all. This will help us unite and create customers and make customers know us by our approach and work for them.
S&D: Any advice to your workers?
Bampha: I advice them to remain committed to work and to continue making good name. To treat customers with care and to create love for one another which will enhance productivity and self-reliance. And to our customers that they should not forget these numbers to call and other carpenters to contact: 9953004/7020256/6953004.Let customers pick between good and bad service and promote our local carpentry products by promoting us.
S&D: I thank you for the interview.
Bampha: You are welcome. You are too kind to have come all the way. Thanks and God bless your work.
Read Other Articles In Article (Archive)