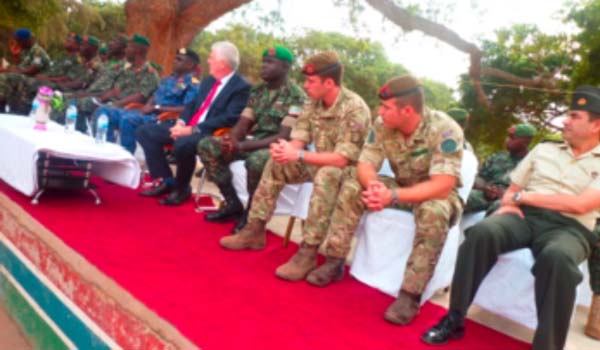 As part of bringing peace to Darfur, 208 military personnel of the Gambia Armed Forces have completed a pre-deployment training course at the Gambia Armed Forces Training School (GAFTS).
The training session was for the preparation of Gamcoy 18 for peacekeeping deployment in Darfur, Sudan.
Speaking at the ceremony, Sillah Kujabi, Inspector General of The Gambia Armed Forces, said the ceremony marked another milestone in the bilateral relationship as partners in progress.
The Royal Gibraltar Regimen plays a fundamental role in the maintenance of that relationship between the Gambia armed forces and the British Army in particular, he said.
This training exercise provided a platform to educate, teach and implement up-to-date military doctrines based on demand and to fill in gaps for a common strategy in the Peace Support Operation, he added.
Operations which are the mandate of the Gambia armed forces are by their nature dangerous and physically demanding, he went on.
According to Kujabi, the other fundamental characteristic of operations is that they are a group activity, whether the task is full-scale war, peace support operations, or activity in support of the civil authorities.
He said even when deployed on their own in dispersed positions, soldiers are part of the team, and the effectiveness of that team would depend on each individual, seen or unseen, playing his or her part to the full, and upon the degree to which they contribute to the cohesion of the team as a whole.
Success in such conditions depends above all else on good morale, which is the spirit that enables soldiers to triumph over adversity.
LT. Col Samba Baldeh, GAF director of operations, said this was part of a series of training activities highlighted in the Chief of Defence Staff's Training Directives 2014/15.
Pre-Deployment training was part of those requirements that any member of any armed forces should meet before deploying into any peace support mission, Baldeh said.
The Gambia Armed Forces is therefore on the right footing to ensure that its members are adequately trained prior to any deployment into any mission.
He noted the importance of pre-deployment training in the military and for members of Gambia armed forces, in particular, could not be over emphasized, as it prepares officers and soldiers adequately to respond to some of the challenges they are expected to face in the theatre.
The training course, therefore, would not only prepare members but also give them the required knowledge and skills needed to operate in any peacekeeping environment throughout their entire military life, he said.
Read Other Articles In Article (Archive)