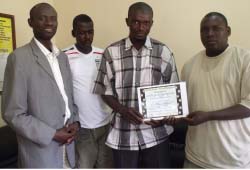 Kunting Youth and Sports Development Committee in CRR, West Side Goalkeepers Academy and Lower Nuimi Sports Committee were the latest beneficiaries of a series of presentation of valuable football materials by Football Gambia, who continues to render meaningful and endless support to Gambian sports.
Held at the Ministry of Youth and Sports in Banjul yesterday, the presented items to three different  sports committees included 15 Umbro goalkeeper gloves, 18 pairs of Umbro socks, 4 goalkeepers top for West Side Goalkeeper Academy in Latrikunda German, 14 pairs of Umbro gloves, 3 official Umbro match balls and 18 pairs of Umbro socks for Lower Nuimi Sports Committee, while Kunting Youth and Sports Committee benefited from materials ranging from 5 pairs of football match balls, 20 pairs of socks, 25 pairs of Umbro gloves, 20 jerseys including 2 goalkeepers shirts and 16 shorts of jerseys valued at a tune of D61,750.
"It is my pleasure to present these valuable football materials to you on behalf of Football Gambia which is part of our efforts of complementing the Gambia government's effort in our quest to attain excellence in sports," Manneh told the gathering during his short speech.
Manneh, whose support to the development and promotion of sports in the country in recent time has been highly noticed, used the occasion to thank his UK partners Football Gambia and Umbro for their "valuable contribution" to sports development in the Gambia while urging the beneficiaries to make the best use of the expensive materials giving to them.
Alieu K. Jammeh, permanent secretary of the Ministry of Youth and Sports, who presided over the presentation ceremony on behalf of the Minister of Youth and Sports, said the gesture by Yahya Manneh and his partners were part of complementing the Gambia government's effort in achieving sports excellence through mass participation.
"My Ministry wants to focus more on the people of the rural area so that those talents at the provinces can also taste the beauty of the game," he said.
"This is why we are very much pleased and honored to have people like Yahya Manneh and other good partners to collectively work hand in glove in trying to complement the efforts of the Gambia government, which is essential in sports development," Jammeh said, noting that through such an assistance, "we can decentralize sports across the length and breath of the country for effective sports development".
Jammeh was however grateful and thankful to the donors for their kind gesture.
Babucarr Sohna, a representative of Fass Sports developmental organization of Lower Nuimi, whose face was beamed with joy after receiving the materials, was full of praises and appreciation for Yahya Manneh and his organization for the donated items, saying: "it will be unbelievable for the people of Fass to receive such a high quality football materials at a time when they needed them most."
For Mustapha Faye, who deputised West Side Goalkeepers Academy at the presentation ceremony, the gesture "is worthy" of commendation.
Mr Faye at that juncture presented a certificate of appreciation to Football Gambia's Yahya Manneh attesting to their outstanding dedication to sports development beyond the expectations of Latrikunda outfit.
The presented items formed part of a series of high-profiled donation by Yahya Manneh, country director of Football Gambia on behalf of Football Gambia, a UK based charitable organization, whose ultimate aim is to capacitise and empower Gambian sportsmen and women in sports and other developmental endeavours.
Read Other Articles In Article (Archive)