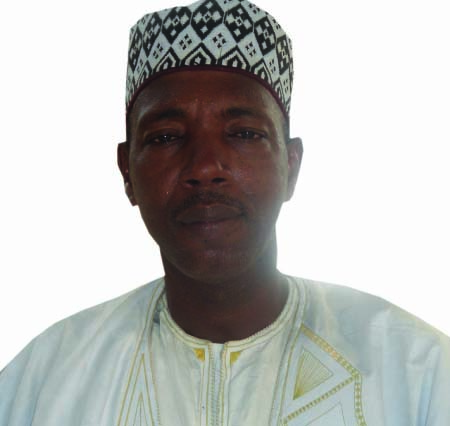 (Friday October 17, 2014 Issue)
The licence of Gambia Bird Airlines should be "immediately" revoked Hamat Bah said as he noted that whether the flights of the company fly from Freetown-London or Banjul–Freetown it still put Gambia at higher risk of importing Ebola.
The leader of the National Reconciliation Party (NRP), however, said they are not at war with Gambia Bird but with the deadly Ebola virus and that war is in the supreme interest of The Gambia, which will not be compromised for any investor under any circumstances.
"And I hope Gambia Bird would understand that we believe in investors and we always welcome investors to come and invest in our country. But the supreme interest of our country would never be compromised; will not and shall not be compromised under any circumstances," Mr Bah told journalists in a press conference on Thursday at his party secretariat along Kairaba Avenue.
The conference was held to reiterate their stance that Gambia Bird should not be allowed by The Gambia government to fly to Freetown – whether from London or Banjul.
The NRP leader has earlier reacted in response to the British government's decision to allow Gambia Bird resume flights between London and Freetown, where Ebola is spreading rapidly.
Mr Bah's reaction then was that The Gambia government should not follow the UK by allowing the airline company to operate between Banjul and Freetown, a route already banned by the Jammeh government.
However, Gambia Bird also swiftly reacted by saying that the NRP leader got it wrong because the company has no intention to fly to Freetown from Banjul but only Freetown-London.
But during Thursday's press conference, Mr Bah announced that he and his opposition party still maintain that the flights of Gambia Bird should not be allowed to go to Ebola-hit Freetown - whether between London-Freetown or Banjul-Freetown and that the government should revoke the company's licence.
Not the operating licence of the company but the licence that allows them to fly to Freetown and other severely Ebola-affected countries.
"And I will give you our reasons," Mr Bah said."Firstly, our position has been corroborated by the British government by cancelling the licence of Gambia Bird to fly between London and Freetown because of the same concern that we have expressed here in The Gambia – that it could lead to the spread of the deadly Ebola virus."
Second reason, Mr Bah said, "We believe that in the event Gambia Bird carries a passenger who is infected with Ebola the crew on board that aircraft will have contact with that passenger.That same crew will come back to The Gambia as here is the base of Gambia Bird.
"Now, when this crew comes back to The Gambia they will pose a threat to the nation because experts have indicated that when the Ebola virus touches even a table, for instance, it can survive 48 hours."
The NRP leader reiterated that even whereas Gambia Bird said they were only going to fly between Freetown and London, but by virtue of the fact that the company is based in The Gambia and has Gambian crew members; they still open the country to importing Ebola.
"Thirdly, we strongly believe that this country mostly depends on tourism.We have an economy that is not as strong compared to countries that are affected by Ebola.Those countries (Guinea, Liberia and Sierra Leone) have lots of gold to mine, lots of diamonds to mine, lots of things to mine. When Ebola vanishes, they would just walk straight to go to their minefields and start mining and selling.In The Gambia what we have is tourism; once wrecked it takes years to rebuild.Very difficult to rebuild," Bah said.
"Because The Gambia basically depends mostly on tourism for employment, for taxes, for all such of things, once Gambia Bird started flying from Ebola-affected countries, the name of the country would appear among countries in contact with the Ebola-hit ones.This will affect the image of The Gambia seriously," he added.
For Mr Bah, the risk of Gambia Bird flying to Freetown is too costly, too high and should not happen.
He said: "It should be stopped; it's a threat to our national security and our very citizens as a nation."
The NRP leader said they are calling on The Gambia government to rethink and act like the British government to take Ebola seriously and cancel the licence of Gambia Bird.
However, the government has already put such measures in place by a directive issued on the 7th and 11th August 2014 prohibiting all the flights to Banjul to pick passengers from the countries severely affected by Ebola.
Mr Bah said they commended the government for the measures, and said there should be no going back on those decisions.
Gambia Bird flouts the rule
Mr Bah claimed that Gambia Bird had been flouting the directive of The Gambia as it continued to fly to Freetown even after a government directive was issued banning it.
"This document I have here contains the schedule flights of Gambia Bird of 11th, 12th, 13th, 14th, 15th, 16th, and 17th August 2014.Yes, Gambia Bird was not going direct from Banjul to Freetown, but Gambia Bird was flying to Freetown," Mr Bah claimed.
"Now if you fly from Dakar to Freetown; you go everywhere; you come back from Freetown to may be Dakar, drop passengers there then to Banjul. Is it not the same crew that flies from Freetown to other destinations that will come to Banjul?If there is a passenger affected in Gambia Bird's flight, what guarantee is there that a crew member will not be affected with the virus? That could lead to Gambia having the virus as it happened to the United States and Nigeria," Mr Bah said.
"We should understand that the supreme interest of this nation cannot be compromised for commercial interest of any individual or individuals."
For that being the case, Mr Bah emphasized that The Gambia government should revoke Gambia Bird's licence, not to close operations, but to prevent the company from flying to Freetown or any other Ebola-affected country.
Read Other Articles In Article (Archive)