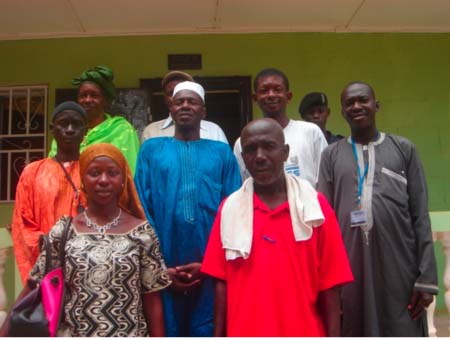 Members of the Wuli based Beakanyang Kafo on Monday paid a courtesy call on the Governor of Upper River Region at his office in Basse.
Speaking during a meeting with the new governor in the presence of his deputy and other local officials, Mr Yahya Sumareh, board chairman of Beakanyang, said the purpose of their visit was to congratulate the new governor on his recent appointment as URR governor and to brief him about their activities in the region.
According to him, Beakanyang is a registered not-for profit community based development and advocacy organization operating in URR but focusing mainly in Wuli West.
"We are also here to seek for your moral support and to discuss issues of common concern for the development of the region," he told Governor Sanneh.
For his part, Mr Nfamara Jawneh, Secretary General and Programme Officer of Beakanyang Kafo, said it was a pleasure for them to meet the new regional governor.
He told the meeting that despite the numerous challenges the organization is faced with, they have over the years contributed immensely in national development.
According to him, the impact of their interventions and success stories in the areas of promoting environmental sustainability, human rights and good governance, agriculture, youth and women empowerment are visible for everyone to see.
He disclosed that this year they have planted five thousand trees across Wuli West, dug two wells, donated fertilizer to farmers, provided fencing wires and trained local people on climate change effects.
"We intend to directly empower over one hundred disable women in the region in coming months," he disclosed.
He thanked the office of the governor for their support and collaboration with his organization while assuring the governor of their continued commitment to nation building.
In response, the URR Governor, Kanimang Sanneh, thanked Beakanyang Kafo for the visit. He told the meeting that Beakanyang Kafo is not a new name in the region and applauded the organization for their foresight.
Governor Sanneh said his office will maintain its open door policy in dealing with organizations like Beakanyang while reassuring the group of his continued support.
Speaking earlier, Momodou S. Jallow, deputy governor of URR, recalled way back in 2010 when he was first appointed in the region and addressed an activity organized by the Kafo.
He expressed his admiration with the operations of the organization and urged them to remain focused.
Other speakers included Honorable Saidou Sabally, National Assembly Member for Wuli East and former councilor Aja Mariama Jaw of Basse.
Honorable Sabally used the opportunity to extend an invitation to Beakanyang to consider working in Wuli East too, noting that the two districts are more or less the same.
Meanwhile, his request was acknowledged by the group with its programme officer promising him that come November this year the area would be incorporated in some of their activities.
Read Other Articles In Article (Archive)