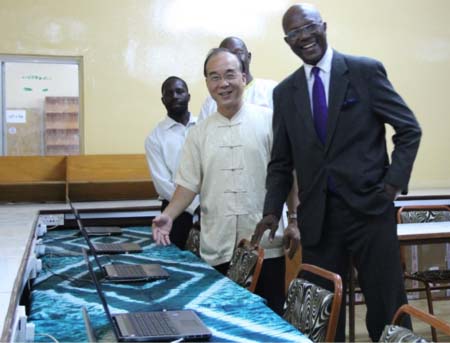 The Minister of Information and Communication Infrastructure alongside the Taiwanese Ambassador to The Gambia, yesterday opened the digital opportunity centre housed at the Gambia Telecommunications and Multimedia Institute (GTMI) in Kanifing.
The centre is furnished with 21 new laptops worth $39,750 courtesy of the Taiwanese Government.
Speaking on the occasion, Minister Nana-Grey Johnson thanked the government of republic of China (Taiwan) for the support been rendered towards the establishment of the centre.
"I recalled the signing of the Memorandum of Understanding (MoU) on the 25th June, 2013 between my Ministry and a reputable ICT institution and industry player the Information Industry Institute (III) of Taiwan. Today, only three months later we are gathered here to accomplish one of the main milestones of that MoU," he said.
According to Minister Johnson, they have carefully identified GTMI as the host of the project due to the ministry's desire to prepare it as a centre of excellence with particular emphasis on ICT education and training.
"We, therefore, hope that this project will be given the necessary attention to make it the turning point in the transformation of GTMI into a specialized and quality learning centre," remarked Mr Johnson.
He disclosed that the centre would be used to equip government officials and other citizens of the country with ICT skills.
Speaking earlier, H.E Samuel Chen Taiwanese ambassador to The Gambia, said that ICT has become indispensable way of life.
"The combination of computers and mobile phones has been widely used to increase the various services, upgrading the work effectiveness and improving the convenience and quality of life," he said.
He expressed hope that with the establishment of the centre, e-services nationwide would be improved.
E-government he said is very important for the development of the country while applauding The Gambia for the efforts in strengthening her ICT infrastructure.
Meanwhile, the cordial cooperation between Taiwan and The Gambia was featured prominently in the speeches of both Minister Johnson and Ambassador Chen.
The duo cited education, health, and agriculture and infrastructure development as some of the key areas of cooperation where great successes have been registered.
Mr Malick Bah, director of Academics GTMI, delivered the vote of thanks and assured that they would put the centre into good use.
Read Other Articles In Article (Archive)