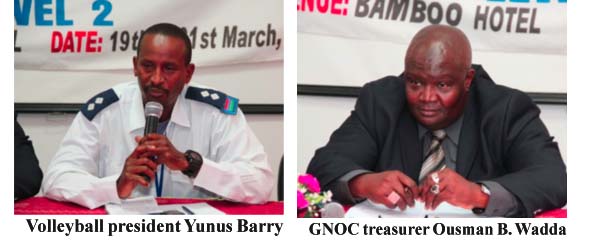 A two-week level 2 coaching course for volleyball organised by the Gambia National Olympic Committee (GNOC) in collaboration with Olympic Solidarity, the International Volleyball Federation (FIVB) and the Gambia Volleyball Association kicked off last Thursday at the Seaview Gardens Hotel.
The first-ever level 2 course for volleyball coaches in The Gambia, to be held from 19th -31st March 2015 brought together 20 coaches from affiliated clubs and regions.
Two volleyball experts, Jivko Pavlov Jetchev from Bulgaria and Bernard Jose Denis from Seychelles, are conducting the training course.
Speaking at the opening ceremony, the treasurer of the GNOC, Ousman B Wadda, deputizing for the GNOC president, said one of the primary mandates of the GNOC is to facilitate the activities and development programmes of interested associations.
The board and management of the GNOC believes in capacity building; that is why they encourage all associations to make good use of the programmes envisaged by the Olympic Solidarity.
He advised them to be steadfast, discipline and listen keenly to their course experts, so as to achieve the best.
Wadda added that the training course is important.
"Trained coaches will enhance volleyball competition in the country. The reward of athletes is achieving goals; therefore take advantage of it", Wadda told the participants.
The GNOC treasurer seized the opportunity to thank President Yahya Jammeh for his immense contribution toward sports development in the country.
He also appreciated the Ministry of Youth and Sports guidance offered to associations.
Wadda hailed the newly-elected executive committee of the Gambia Volleyball Association for nurturing and developing volleyball from the grassroots level.
Wadda expressed special commendation for Olympic Solidarity and the Olympic movement for their untiring efforts to develop sports in The Gambia.
The president of Gambia Volleyball Association, Yunusa Barry, acknowledged the positive developments under way at the volleyball association.
He added that this was the first time in the history of volleyball that coaches are being trained at level 2, which will impact positively on the development of the game in the near future.
He hailed the GNOC board to financing the entire trip of the beach volleyball team in the Rio 2016 qualifiers held in Senegal recently.
The course director, Jivko Pavlov from Bulgaria, was appreciative of GNOC, FIVB and Olympic Solidarity for their goodwill to hold the level 2 volleyball course in The Gambia.
"The International Volleyball Federation and Olympic Solidarity have to bend the rules for the level 2 coaching course to be held here, because The Gambia cannot host such a course due to the lack of indoor facilities in the country. To be frank with you, only countries with indoor facilities can host this course" Mr. Pavlov revealed.
The ceremony was chaired by GNOC development officer Momodou Demba.
Read Other Articles In Article (Archive)