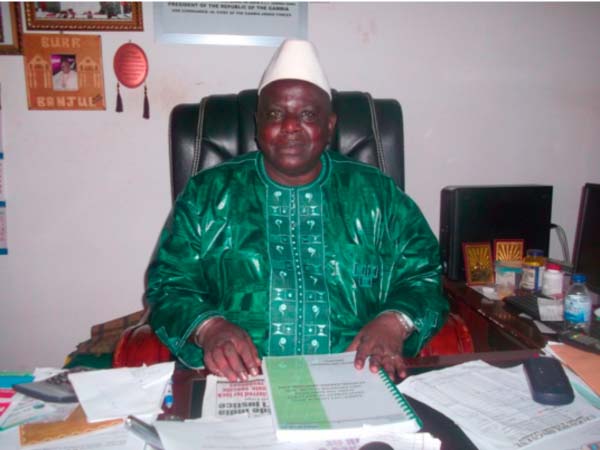 Hello and a warm welcome to another edition of the Personality of the Week, your weekly column on personalities who are role models, who are inspiring mentors of the future generations, both male and female.
In this edition, we profile an inspiring man, Dr Abdoulie Bah, the Mayor of Banjul; a development-oriented man and a man who defeated personal interest for the benefit of his people.
This is a man who has the objective to unifying his people as one, and to leave a legacy as far as Banjul is concerned.
Mayor Bah was awarded a doctorate degree sometime last year.
Mayor Bah was born in Banjul in 1948. He attended Muhammedan Primary School, where he sat to the then common entrance examination in 1960.
He proceeded to do his secondary education at the Banjul City Council School, a junior secondary school, and completed his four-year junior secondary education.
"I was assisted by Ebrima Mbowe to further my education. I am a social worker, and a community leader. I could fully recall that I usually assist schools in cultural activities, whereby they cannot assist themselves financially in certain disciplines that they would like to be involved in.
"I do assist youths by getting them together to build up a football team and, if I could recall, there was a team built up and I was the financier at the time, called Company 23, and a basketball team which was led by one Abdoulie Krubally and others.
"Some of them were selected from my team to other teams, and some played for the regional team.
"At my youthful age, I had done a lot and I can recall when I was called by Alhagie Malick Samba, at a time when he was going to build up a Muslim high school.
"We were trying to capture finance on the ground, and he was a person who had done his utmost best to see that the Muslim High School was established, because there were difficulties for those who passed to gain admission to the high schools.
"When Samba came up with this idea, we all tried to see how much we could help to have the school established, and in the process of the construction, I used to go and help them mixing the cement during weekends.
"I was elected as a councillor of the Campama Ward in 1987, and I can tell you it was a day that I could say I was walking on the sky, because we all used to know Tobacoo Road. The street lighting system did not come from the Edward Francis Small Hospital up to the Gambia High School and I had the opportunity to go to England with the former mayor, James Gomez.
"My intension at that time was that if I had gone to London, the UK, I would get myself a television and a video, because it was scarce in Banjul in the years of 1987, 1988 and 1989.
"When I got to London, I diverted and changed everything, because I was in London and I did not pay anything for my travel costs.
"But I believed it would have been much more appropriate that before going to buy anything like television or a video or any luxury, and bring it to my house, I thought it wise to return to Banjul from the trip and extend the street lighting of Tobacco Road for my people.
"When I came back, I was cautioned by my wife! But then I told my wife that if I were to be on the right channel, I should get back and extend the street lights of Tobacco Road."
Q: Were you happy by your change of decision to helping your people at Tobacco Road, by extending the street lights?
A: I was so excited to see that the street lights were put on, because I financed all the installations from the Edward Francis Small Teaching Hospital up to Gambia High School; with a similar development, which took place at the bridge.
The bridge was identified for an individual to use it for his own compound; but we were trying to ensure that we had access to and from Tobacco Road though the bridge.I identified that we should have that bridge, but it was so tough on me.
After the identification of the bridge to serve as easy access for the school children and other people, I identified the area with the support of an uncle called Mr Mbye, to construct the bridge, the only man who is alive and now is in his 90s.
Q: After your schooling, what was your first occupation?
A: Immediately after school, in those days, if you had completed your form four, normally our parents used to take us to learn a technical job. I was sent to one Abdou Sillah to be trained as a "mason", and in that same job I was qualified and entered Sun Wing Hotel to work at Sung Wing Hotel.
Q: After making it through all these experiences in the past, what is your advice to the current generation?
My advice to the youths is that they have to understand that all of us cannot be in the offices. Our parents tried to engage us in anything that we could be good at during our time, and that was the job which supported me during my childhood.
I lost my mother at an early age, and I was brought up by my grandmother and, believe me, we were so obedient to our parents.
Now what happens is that most of the youths have forgotten that they are future leaders for the development of the nation. Let us try and engage ourselves in something. If we engage ourselves in something, nobody can take the glory from us. Just note: during the Muslim feasts, most of the people who are here return to their countries and enjoy the feasts with families, and we face difficulties.
Q: What are some of the challenges you are confronted with, Sir?
A: We have challenges, because when I took over, definitely, I had so many challenges; but they have been eradicated by President Yahya Jammeh, who supports me. That is why the challenges could not overcome me.
My intention is to leave a legacy as far as Banjul is concerned, so that whoever comes can emulate from what has been already done. If all of us put hands on deck in the interest of the nation, the beneficiaries in the future will have a better place to stand on.
Q: How did you get your doctorate, Sir?
A: I am very instrumental; because I am open to people. As a Muslim, I feel that I should be open up to every individual irrespective of religion. I met with the people who awarded me the doctorate on two to three occasions, and there they understood what type of person I am.
They are people from Nigeria and established in The Gambia, such as the pastors' association, because their intension is to pray for the nation and the people. Praying for the nation is equal to praying for the leadership, and when the leadership has peace, everyone living in the nation has peace.
When those who awarded me came with their problems, I tried to share their problems with them, because I must have to take up my share; and even if they have their big people coming, I can give them my own vehicle to transport their people because they are leaders of a religion and the religion belongs to God.
If He does not want any religion to exist, He would not allow it. When I was honoured with this doctorate, I was in Nairobi, Kenya, one year ago.
Q: Do you have any hobbies?
A: I was a draught player, and I can tell you I was part of the big guys! I like indoor games.
Q: What are your dislikes, if any?
A: I don't want people who sit anytime and castigate other people, because of your own selfishness. If you see people doing their utmost best, and if you think you cannot support, I believe that it is the responsibility of the individual to be quiet.
Q: what is your advice to youths in this Personality of the Week interview?
A: my advice is that as you are the leaders of tomorrow - sometimes it will be very difficult, because some people will think that we are political, but the youths need help by advising them on what should or needs to be done for their own benefit tomorrow. This has noting to do with politics.
We had our independence in 1965, and from then up to 1994, I can tell you something about that; and from 1994 up to date. It means that I have met with three generations, and I can compare which is the best.
From 1994 up to date, I can tell you why I support President Yahya Jammeh. I support this individual because he is development-oriented. I was always working for the interest of my community and the people, and if I have seen someone who takes up that responsibility, definitely, I will commend him. It is very difficult for someone to sacrifice, but I have seen that he is doing that because of his generosity.
I can tell you that any amount given to me by him, the only thing I recommend is to complement the amount, and that is what I am doing. I will advise all youths to leave politics aside, because outsiders cannot come and develop the nation for us.
I thank the media for their contribution in the dissemination of information. 
For your comments, contribution or to be featured please contact adoboyj@yahoo.com or (00220) 7737484.
Read Other Articles In Article (Archive)